A healthy breakfast is important for everyone, but for kids, it's crucial — particularly during the school year. "Not only does breakfast enhance brain power, attention and concentration to help support learning, it also serves as the first opportunity of the day to boost nutrient intake, which supports growth and development," explains Kathleen Benson, a registered dietician nutritionist with Top Nutrition Coaching.
Additionally, Benson notes, a healthy breakfast for kids before school is a key element in staving off grouchiness. "A balanced breakfast can positively impact mood by reducing hunger-induced irritability," she explains. "When our stomachs aren't growling, it's easier to maintain a positive mindset and focus on tasks at hand."
Looking for ideas for a healthy breakfast for kids before school and beyond? Here, 14 delicious, wholesome and nutrient-packed options. 
1. Whole grain toast with nut butter and berries (and an egg!)
One healthy breakfast for kids before school, according to Benson, is whole grain toast topped with peanut butter and berries and a hard-boiled egg on the side for protein. And need we even say it? Parents and caregivers get big-time cool points if they create these cute toast animal faces.
2. Cereal and milk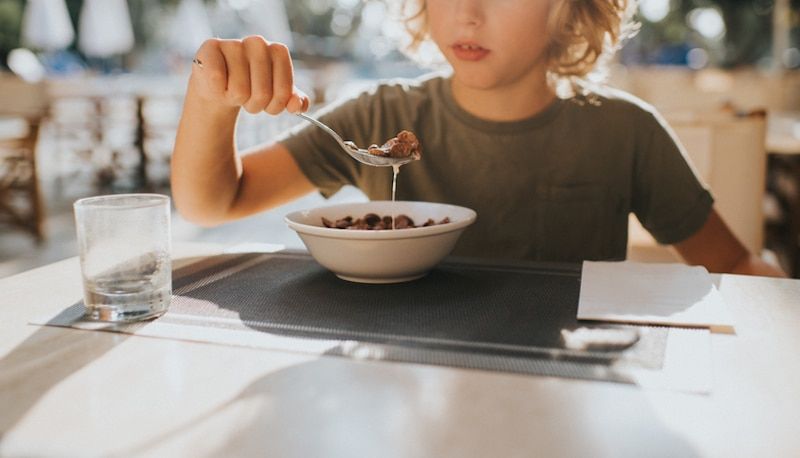 "Milk and cereal is an easy, go-to breakfast for kids," says Mackenzie Burgess, a registered dietitian nutritionist and recipe developer at Cheerful Choices. "You'll find all types of cereals lining the shelves, but opt for low sugar cereals (aim for under 5 grams added sugar per serving if you can) that are filled with whole grains and protein."
"For extra protein," Burgess continues, "pair your cereal with Maple Hill's grass-fed milk, which provides calcium, potassium and protein. This combination not only provides energy to start the day but also supports bone health and overall growth and development." 
3. Greek yogurt with granola and banana slices
Benson is a fan of serving kids Greek yogurt with granola and banana slices for breakfast. And if you have the time, consider creating a yogurt bar a la Somewhat Simple, where kids can top their yogurt with healthy fixins, such as fruits and nut butters. 
4. Bean and cheese breakfast taco
Dinner for breakfast? Why not? Benson suggests using "mashed or refried beans with shredded cheddar on a corn or flour tortilla." This simple breakfast taco recipe from Chef San Antonio can be made in a pinch.
5. Banana boats with nut butter and chia and flax seeds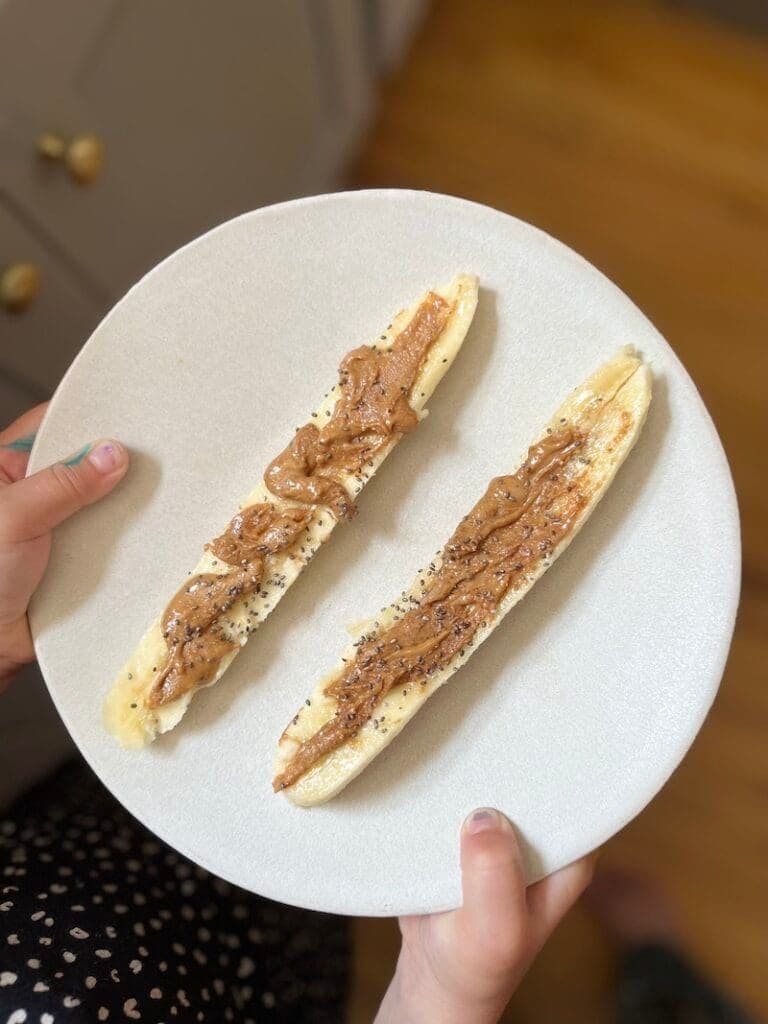 "A healthy breakfast for kids includes protein, fat and produce (fruit or vegetable)," notes Lisa Wellnitz, an advanced practice dietitian at Johns Hopkins Children's Center in Baltimore. "This both fuels them and helps them stay full until the next meal or snack."
As an option, Wellnitz likes "banana boats." "Slice a banana in half lengthwise, then spread nut or seed butter on the smooth side and sprinkle chia seeds and flax seed meal on top."
6. Oatmeal with nut butter and fruit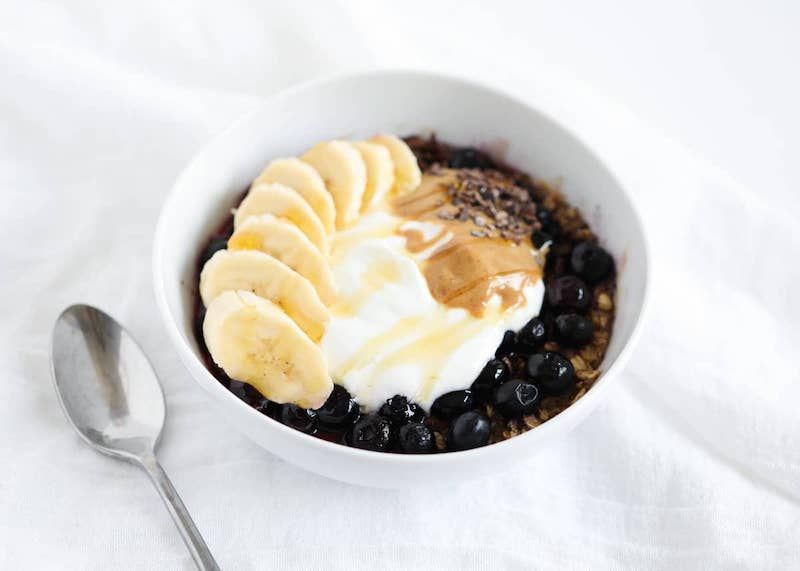 Another favorite healthy breakfast for kids from Wellnitz is "oatmeal drizzled with nut or seed butter and a banana, berries or other fresh fruit, plus milk or a milk alternative."
Jamielyn from I Heart Naptime has a ton of healthy oatmeal recipes on her blog, with an endless list of toppings.
7. Toasted mini bagel with cream cheese, sliced cucumber and turkey or ham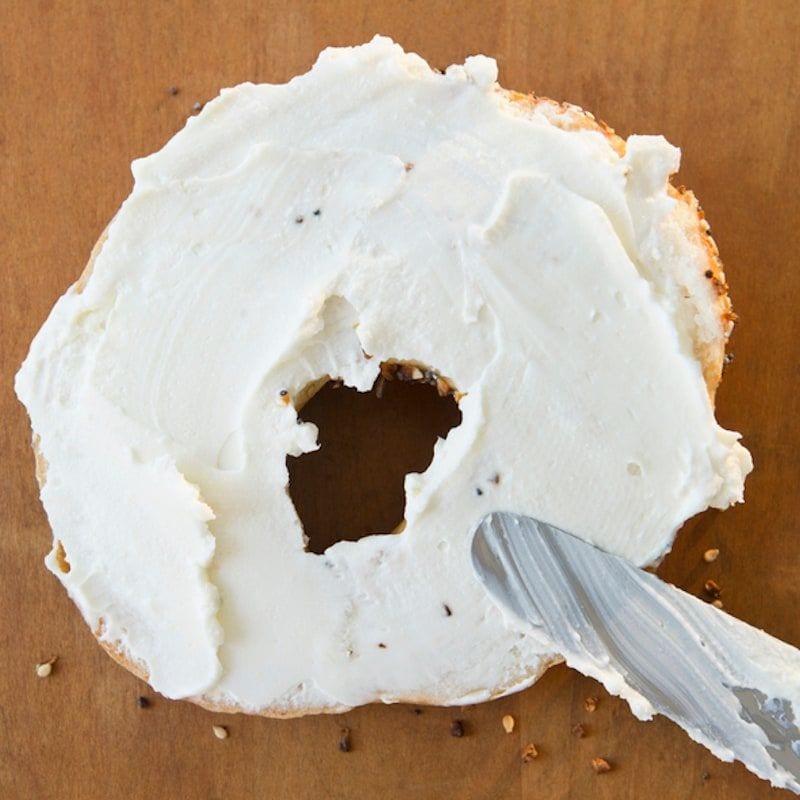 "To create a breakfast that keeps little ones fueled until lunchtime, focus on combining fiber-rich carbohydrates (which can include whole grains, fruits and vegetables), protein and healthy fats," says Benson, who's a fan of mini bagels with cream cheese, cucumbers and turkey or ham. 
Read more:
8. Tortilla with scrambled eggs, cheese and pico de gallo 
For a healthy breakfast for kids packed with protein (and flavor!), Benson likes scrambled eggs, cheese and kid-friendly (aka mild) pico de gallo in a tortilla. We love the tortilla wrapping hack McKayla Grace shows off in her tortilla breakfast wrap recipe video.
9. Smoothies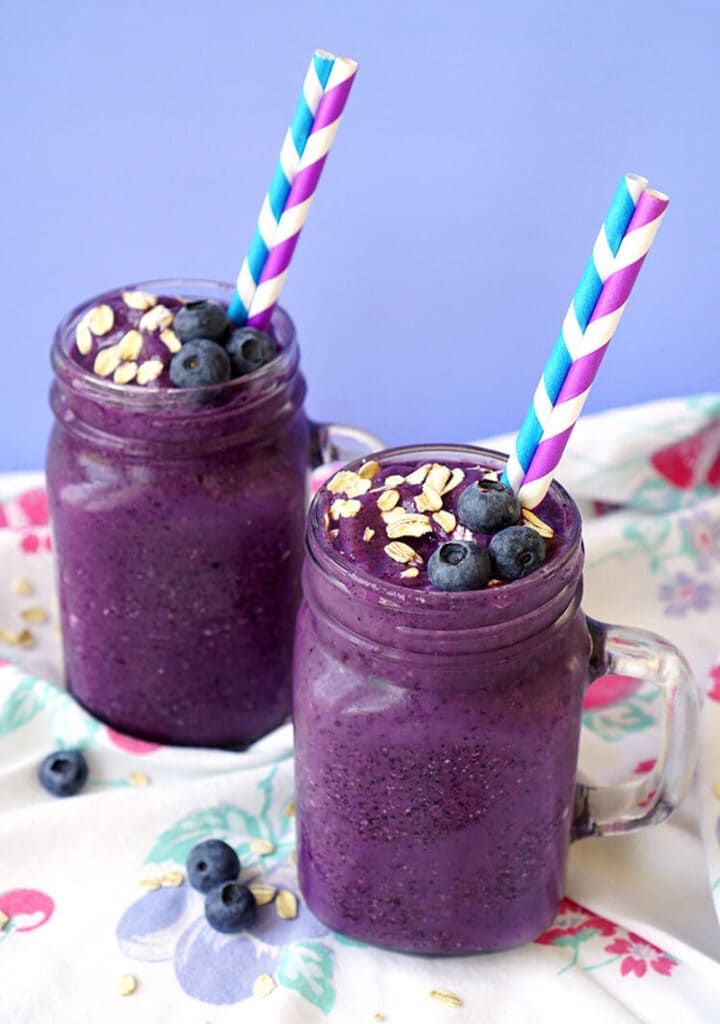 Benson, Burgess and Wellnitz are all fans of smoothies for breakfast, which can be packed with pretty much anything. 
"Smoothies are a great way to incorporate fruits, vegetables and other nutrient-packed ingredients into breakfast time," Burgess says. "Start with a base of frozen bananas and other fruits like berries, peaches or tropical fruits. Then, you can add veggies like spinach, cauliflower rice or sweet potatoes. Be sure to also add in protein additions like yogurt, nut butters, seeds or protein powder. Finally, pour over milk [dairy or plant-based] before blending to make everything nice and creamy."
Heidi from Happiness Is Homemade has a delicious blueberry muffin smoothie recipe on her site that's packed with antioxidants and nutrients. 
Another great thing about smoothies, Benson notes, is that they can be made ahead of time and frozen. "Prepare a batch and store them in reusable fruit pouches for a convenient grab-and-go option," she says. "Just be mindful of the time needed to thaw."
10. Quiche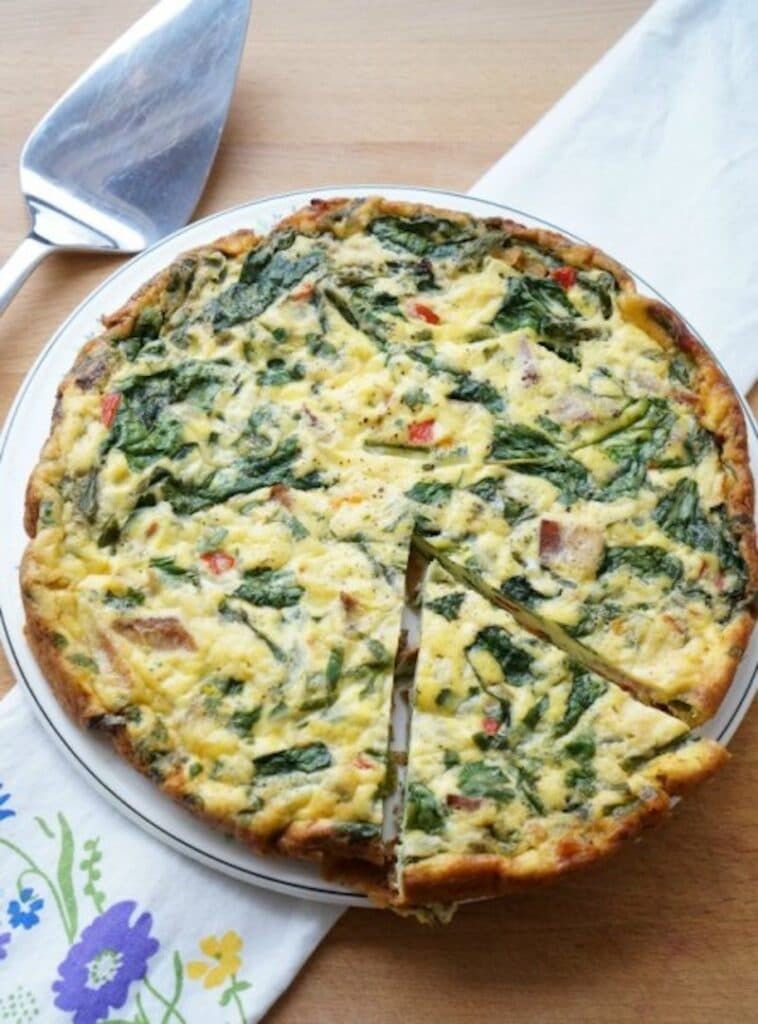 Another way to incorporate eggs into breakfast, according to Benson, is with quiche — mini or regular-sized! 
Benson's favorite recipe for mini quiches: 
Beat eggs, mix in diced vegetables, cheese and leftover rotisserie chicken. 
Pour the mixture into greased muffin cups and bake until set. 
Pair with a banana or other fruit on the side.
Jen, from Kitchen Counter Chronicles, has a similar recipe — a spring frittata recipe — that may be better for older kids with more sophisticated palates!
Read more:
11. Whole grain muffin with nut or seed butter 
Both Benson and Wellnitz recommend a whole grain muffin with a dollop of nut or seed butter on top. 
Wellnitz suggests pairing it with fruit and a milk or milk alternative, and Benson recommends trying a blueberry zucchini muffin recipe, such as the one from Kristy's Keto Lifestyle.
12. Whole grain waffles or pancakes with toppings
For a sweet, healthy breakfast idea, Wellnitz recommends making whole grain waffles or pancakes and then topping with nut or seed butter and serving with a banana, orange or berries and a glass of milk or milk alternative. 
"I recommend soy or pea protein based milk as milk alternatives for kids," she says, "as these milk alternatives are higher in fat and protein."
13. Ants on a log
For an easy, snack-like breakfast (that, yes, you can make the night before), Wellnitz recommends ants on a log, which is celery topped with your favorite nut butter and raisins. 
14. Bob's Red Mill Bars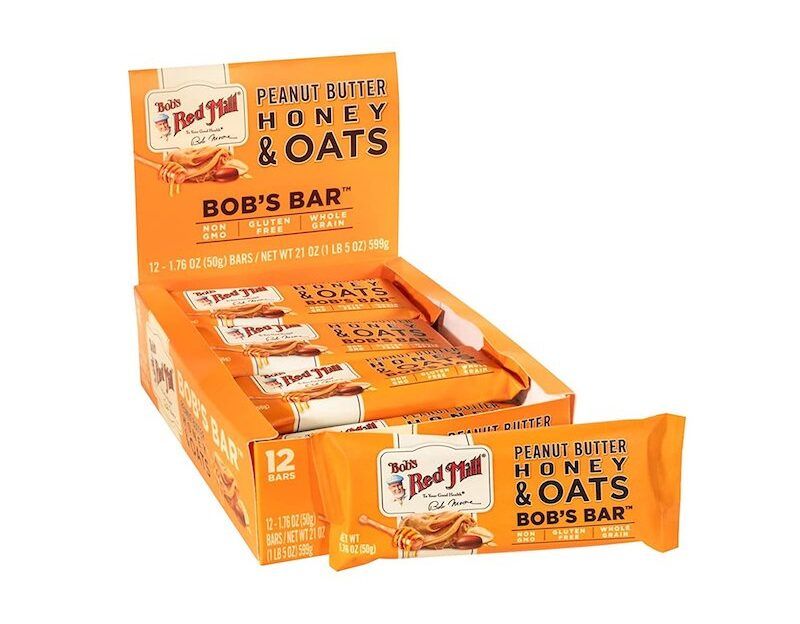 Finally, for something truly grab-and-go, Burgess suggests Bob's Red Mill Bars.
"They're a fantastic choice for those busy mornings," she says. "These bars are made with a short list of wholesome ingredients like whole grain oats, creamy peanut butter and honey. I love how they provide a balance of fiber, protein, and healthy fats for sustained energy.
Where to buy: Bob's Red Mill Peanut Butter Honey and Oat Bars ($35 for a pack of 12, Walmart)
Disregarded issues of learners applying racist slurs, Black little ones finding in problems for reporting instances of discrimination, and white...