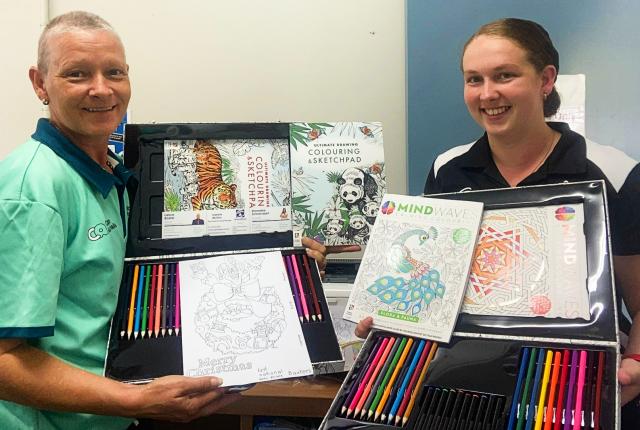 By Matthew Pearce
First National Baxters has partnered with Camp Australia Frenchville to make the Christmas holidays a bit more colourful for children in vacation care.
Sales assistant Karlie Trebbin said the local real estate firm was happy to share a little bit of Christmas spirit with the Camp Australia kids at Frenchville State School in the form of a donation of two giant-sized drawing kits.
The kits include more than 100 coloured pencils, as well as felt pens and colouring-in books.
"Here at First National Baxters, we want to get out into the community and give back where we can," Karlie said.
"I like helping the little kids as I've got kids myself, so I brought up the idea of partnering with Camp Australia with our principal, Lance Baxter."
Karlie said she understood school holidays could get very boring and she hoped the two "ultimate drawing kits" would help relieve that boredom.
First National Baxters also recently renewed its relationship with Meals on Wheels Rockhampton, with the agency's staff members taking turns on Fridays to help out as drivers and delivery people.
Frenchville coordinator Rebecca Perfect said the Camp Australia kids loved arts and crafts and would put the colouring packs to good use.
"We thank the team at First National Baxters for their generous Christmas gift of these amazing colouring packs," she said.
"Baxters First National will be running colouring competitions and contributing resources to the service to instill the community spirit between the two companies.
"We look forward to a long community relationship."
Karlie said the colouring books had been photocopied so all the children could use them.
"Camp Australia has activity stations set up throughout the whole Frenchville State School hall, as well as outside activities. The children love it and it's a great cause."
Camp Australia delivers before and after school care through Your OSHC, providing tailored service that starts early in the morning before school and goes into the evening after school.
Your OSHC is described as easy, hassle-free care for families with engaged educators and specialists who foster a safe, inclusive environment where children can learn, have fun and connect.
Camp Australia's Rocketeers school holiday program offers "extraordinary adventures that see children getting active, cooking up a storm, unleashing their creativity, heading outside of Base Camp and much more".
The program operates in more than 200 schools throughout Australia during the school holidays.
Hundreds of young ones in matching teal blue t-shirts stream into Berean Baptist Church in Burnsville, Minn., for getaway Bible...