This story is sponsored by Wondershare. PhoneArena's opinions in this article have not been affected in any way!
Parental control over digital devices is kind of a no-brainer in our day and age. The Internet has grown and permeates every aspect of our — and our young ones' — lives.
A good parental control suite will allow guardians to help children develop healthy habits around digital communication and entertainment consumption, protect them from potential dangers, and use a smartphones' location function to make sure the kid has made it to school and back home safely.
Well, meet:
Wondershare FamiSafe
Wondershare's FamiSafe has a full suite of features meant to cover all aspects of parenting your kid's digital life. The app offers a free trial so you can browse through and test its many features:
Features:
Screen Time
– The main pillar of good parental controls is a Screen Time scheduling setting. You can see how much time your kid spends on the device and what apps are being used the most. Plus, the
Activity Report
will also remember recent installs and uninstalls, so nothing remains hidden.
You can even go granular and set time restrictions on specific apps or places — like "no gaming while at school".
YouTube Control
 – A dedicated YouTube Control adds on-device restrictions and protection for the famed video platform. While YouTube does include basic parental controls, the fact remains that a child can circumvent these limitations. Either on purpose or by accident — they may create a new profile, they may click a link which opens a video in a browser that's not logged in with their profile, or they can just end up watching a creepy video that somehow made it past YouTube's filters.With Wondershare FamiSafe, you can see video watch history and get reports for potentially harmful comments or video titles that your child has interacted with. You can also block specific channels or videos, though you get these enhanced options only if your kid is on Android.
TikTok History
– TikTok is no stranger to controversy — the website is built around short, high-octane videos that deliver dopamine hits one after the other. It's also a breeding ground for most of the viral fads and challenges, which can be dangerous, unhealthy, or just in plain bad social taste.
With Wondershare FamiSafe, you can see your kid's video view history (on Android) to keep track of what interests them on the site. It's also a good idea to keep an eye on the Activity Report and use the granular Screen Time settings to help your kid curb any doom scroll habits.
Suspicious photo detection
– FamiSafe can utilize an algorithm to detect if there are potentially inappropriate photos in your kid's Gallery (on Android). You can set the filter sensitivity between three levels. If a potentially unsafe (nudity, violence) photo is detected — you will get a notification. From then, you can even remotely delete the photo to make sure it is instantly gone from their phone.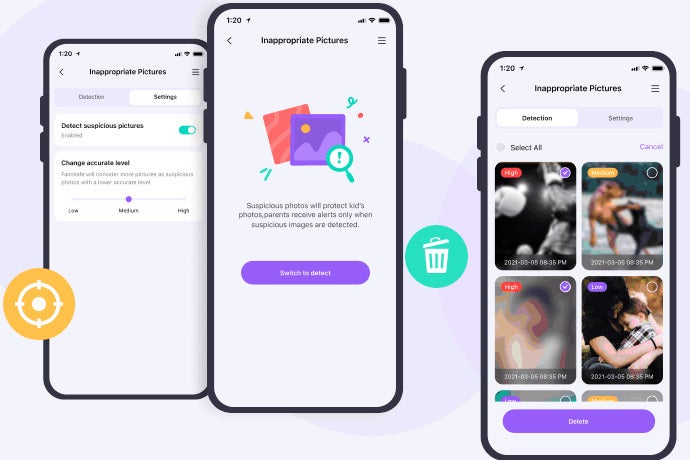 Web Safety
– The Web Safety feature allows you to see browse history, block specific websites, and activate a safe search, allowing your kid to search the Internet without getting inappropriate results.
Live Location
– And lastly, you can have live location and
location history
— make sure your kid is safe and on time to where they need to be. Also, see if they are spending after-school hours hanging out at inappropriate locations.
Pricing
Wondershare offers flexible FamiSafe plans for families or schools. You can pick whether to subscribe monthly, quarterly, or annually. Right now, families can enjoy discounts across all tiers — at up to 50% off for the yearly subscription.
FamiSafe Family plan
Monthly
Quarterly
Yearly
Price

$124.87

$60.99

$32.96

$20.99

$14.98

$10.99
Available on Android and iOS, FamilyKeeper permits moms and dads to monitor social media conversations, observe their kid's locations, protect...