The descriptions, which are just as excellent as the mind-blowingly stunning photos, also succeed in drawing attention to the celebs. Actress Nikki Tamboli, known for her role on Bigg Boss, frequently posts candid photos of herself. She has since included a charming caution. Nikki posted a picture of herself standing in a black top with a light-washed ripped denim pulled down in the back and joked, "Parental warning, look at me at your own risk."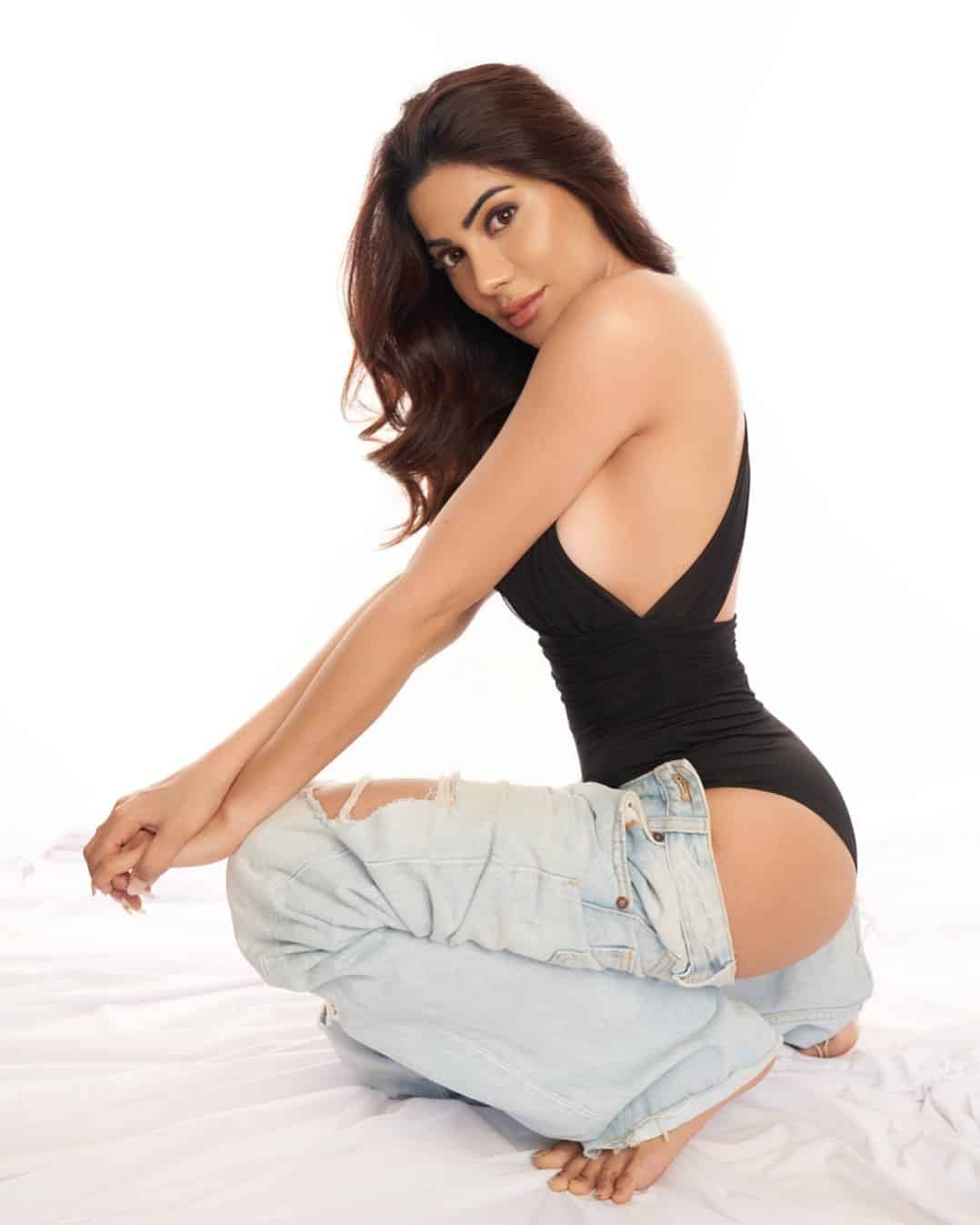 Although the image is very seductive, the warning about adult content makes it logical. Won't let you forget… is what nikki tamboli wrote on another image of the same outfit. Nikki Tamboli, a well-known actress, is one of the well-known figures in the television industry. The actress appeared in several shows, movies, and music videos throughout the years and became incredibly well-known.
Along with her talent as an actor, Nikki is also praised by fans for her impeccable sense of style. She has a sizable fan base on social media thanks to the stunning images she posts. fashion diva nikki tamboli has always been one step ahead when it comes to amazing outfit selections! Nikki hasn't been hesitant to experiment with them, and her style archives are the ones to keep an eye out for. These range from embroidered ethnic attires to striking bold modern clothes.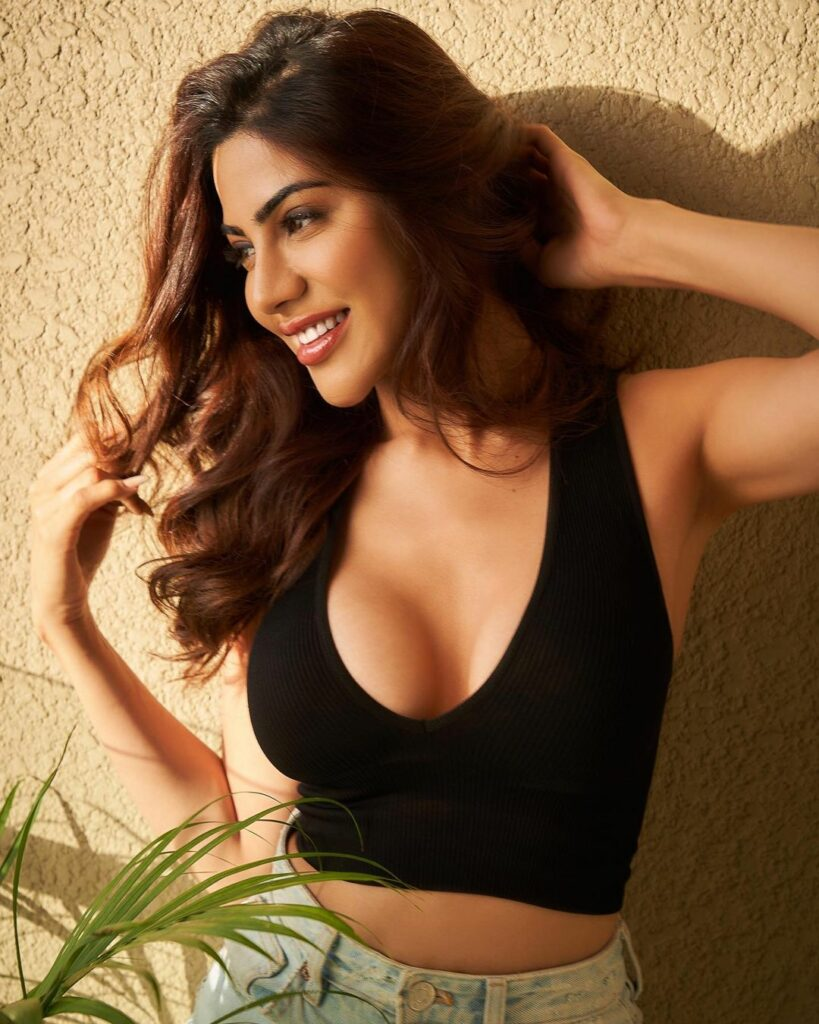 మరింత సమాచారం తెలుసుకోండి:
Pushpa Telugu Movie Review, Rating
పుష్ప తెలుగు సినిమా రివ్యూ ,రేటింగ్
Top Director's Rough Patch Continues
Superstar Decides To Entertain, But Critics Upset
Balayya Heroine has NO OFFERS despite…
Sukumar used Rajamouli Formula for Pushpa 2
Tarak Was The First And Only Choice For War 2
Star Heroine gives Parental Advisory for seeing these 5 photos
Vetrimaran Confirms Talks With Allu Arjun, Mahesh Babu & NTR
Noted Director Takes Seven Years For Third Film
B Grade Soft Porn Heroine for Pawan Kalyan – Fans Not Happy
AR Rahman's Second Innings In Tollywood
Chiru & Danayya's Absence Heats Up Film Circles
Shahid Kapoor Coming With Another Kabir Singh ?
Namrata Shirodkar enjoys seeing her kids with Mahesh Babu
Prabhas Producers! Learn From Project-K
Skin Problem – Tamanna tells about her Bad Skin openly
Luxury Mansions to Private Jet – Nayanthara SHOCKING NET WORTH
National Pets Day: When Keerthy Suresh grooved with her pet Nyke
Salman Removes Shirt before Public – Pooja Hegde Enjoys it
Ravanasura To Beat Khiladi's Record?
Orange alert for 33 districts-Heat Wave..?
Rahul Gandhi: I won't Stop even though MP Tag removed..?
Vetrimaaran-won't collaborate with NTR! why?
Masive announcement: Suriya 42 title unveiled!!!
Armaan Malik gave a befitting reply to trollers for naming his son Zaid
'Super Mario BrosMovie' shatters Box Office!!!
Is Deepika Kakkar is taking an unhealthy diet??
Virat Kohli was seen chilling in the pool with his daughter Vamika!!!
The Sad love life of 'Aashiqui' fame Rahul Roy…
Man Sundar's fame Priyanka talks about her weight loss journey!?
Covid New Dangerous Sign: wreaking havoc..?
New Dangerous virus – 1st Human death due to H3N8..?
Do not come out from 11 to 3 pm…!?
A confusing update from Pushpa 2 team.!!
150 crores Wedding !! 208 chartered flights and more.!
SURPRISING.! Superstar clapped for Lady Superstar.!!
SHOCKING!! Cameraman shouted at Samantha.?
Does Samantha's ornaments worth in crores.?
BJP Release: Naatu Naatu Turns Into Modi Modi!!!
Salman surprised Pooja Hegde by taking off his shirt..!?
Twitter Alert: Indian World War prisoner sought for by historian?
Vijay gave Lokesh a big headache..!?
Woww Pic!!Virat Kohli's Aww-dorable Pool Time!!!
What this glossy actress been doing in the 20 Yrs!??
Free romantic movies on OTT!!
Shahrukh Khan on Rinku stromy innings,Pathan danced…
YouTuber first wife grand welcomes his 2nd wife!!
Where is Beyhadh actress as Rekha know here…
Bholaa Vs Gumraah Box Office Collection
Sonam Kapoor welcomes her son with grand function…!
Sushant's sister got angry on Rhea Chakraborty's comeback
Salman Khan Death Threat date fixed?
Superstar Rajini suffering for 34 days..!?
Has Shehnaaz Gill move on from Sid memories…!
Rakhi Sawant was forcibly kissed
Salman Khan publicly removed his shirt at the event
Jolt to TN government from Supreme Court
Rajastan politics Sachin Pilot vs Sachin protest….!
Not Salman Khan, this actor first choice Kisi Ka Bhai Kisi Ki Jaan!
Is the CSK team banned.!? The controversy created..!?
This actor secretly shoots in Jawan!!
Sushmita had heart attack duringshooting of 'Arya 3',
Mother Bhavna Pandey broke silence about Ananya-Aditya Roy's affair
Women should not go to the hotel.!? Taliban atrocities..?
Next Divorce in Dhanush's family..!?
The only bad habit that Ajith still has..!?
Death Threat to Salman Khan..!? Will kill on April 30..?
Devotee donated 250 acres of land to the Tirupati temple..?
Shahrukh-Salman surprise budget of Citadel…!
Avengers star spectacular comeback
Union Minister helps Khyati to settle down…!?
Is this the case for this actress in the hospital..!?
10 Hot Photos of Pooja Hegde Oozing Oomph in Grey ruched Bodycon dress
Kisi Ka Bhai Kisi Ki Jaan Trailer Release!!
Shilpa Shetty gave a tour of daughter Samisha's new room!!
Naatu Naatu, The Song That Makes Kareena's Son Eat His Dinner
Vinita Singh got trolled for wearing sports shoes with a traditional look!!
Charan's Global Image Demands Oscar Winner?
10 days total collection of Viduthalai..!
Ayesha Takia had a relationship with the brothers of two actresses!!!
Rs.147 deducted from your SBI account..!? check it..!
'Still Not Over This..' – Rashmika Mandanna
Comedian Excited To Dub For Allu Arjun's Voice
Public in fear..!? Government in shock due to corona..!?
Cringefest Director, Pooja Taller and Better Body – TROLLS for Sallu Bhai
Shaakuntalam Review – Allu Arha makes Dad and Family Proud
Telangana Films Need Seperate Nandi Awards
$2 Million Box Office – Then Deverakonda, Now Nani
Ravi Teja – One Step Up, One Step Down
Rajamouli & Family showed Middle Finger to Caste coloring Attempts
Warning..! Drinking cow's urine is unfit for humans..!?
Sankranthi 2024 Overloaded already
Indian-2 Kamal blasts the internet..! Stylish look..!
IPL Ticket sales boom in black market..!? 5000Rs..?
Mixed Reactions Here, Tremendous Buzz There
Ahem..! Clock Ticking for Akhil Akkineni now!
Live Like Ramoji Rao at least One Day
When Comedy Turns Serious!
Radhika Apte Voices about 'Equal' stuff
After Lip Kiss, Naga Chaitanya said 'Sorry'
DIVORCE – Niharika Konidela Final Nail in the Coffin
Telangana's Nandi Awards To Be Given In Dubai
'Indian' Chilling In 'Taiwan'
FL of MS Dhoni's Lets Get Married
Janhvi to choose Ram Charan or Mahesh Babu
Kisi Ka Bhai Kisi Ki Jaan – Troll Material from Salman Khan
"Refused to Give Clothes.." – Samantha Bold Talk
KJo Responds to Criticism Finally
When Sita Wants To Act With Shakuntala
Those Crowds Came For Samantha? No Way!
#BossParty Girl To Join Agent's Party Also
"So many Fu*k Happening…" – Samantha BOLD TALK
Ram Charan and NTR Ignored CelebRRRations
Final Decision Of Sukumar Only After Pushpa 2?
Empowering 140+ Indians within and abroad with entertainment, infotainment, credible, independent, issue based journalism oriented latest updates on politics, movies.
India Herald Group of Publishers P LIMITED is MediaTech division of prestigious Kotii Group of Technological Ventures R&D P LIMITED, Which is core purposed to be empowering 760+ crore people across 230+ countries of this wonderful world.
India Herald Group of Publishers P LIMITED is New Generation Online Media Group, which brings wealthy knowledge of information from PRINT media and Candid yet Fluid presentation from electronic media together into digital media space for our users.
With the help of dedicated journalists team of about 450+ years experience; India Herald Group of Publishers Private LIMITED is the first and only true digital online publishing media groups to have such a dedicated team. Dream of empowering over 1300 million Indians across the world to stay connected with their mother land [from Web, Phone, Tablet and other Smart devices] multiplies India Herald Group of Publishers Private LIMITED team energy to bring the best into all our media initiatives such as https://www.indiaherald.com
Milwaukee Rep, now celebrating its 70th Anniversary Season, will present the Globe Premiere of Parental Advisory: a breakbeat participate in...