Parental monitoring apps can make parenting easier and stress-free. With the rapid advancement of technology, keeping children away from electronic devices is becoming increasingly difficult.
There's also the matter of how mobile phones and tablets can prove useful to children, specifically for their education, provided that the parents control and maintain what content on the phone or the internet their children get exposed to.
This is where parental monitoring apps and tools could be invaluable to parents. 
Monitoring tools allow parents to keep tabs on what their children do on their phones and, to some extent, even allow them to control their use of electronic devices.
In this article, we have outlined 5 of the best apps for parental monitoring for Android devices. But before diving into the meat of the matter, let's talk about the importance of parental monitoring.
Why should parents monitor their children's phones?
There are several reasons why monitoring your kids' phones, and online activity can be useful.
You might keep your child safe from malicious elements on the internet, including bullies, hackers, online predators, and more.
Here are five reasons why you should monitor your children's phones.
Protect them from cyber-bullying 
Protect them from online predators
Safeguard their personal information from falling into the wrong hands 
Keep them safe from identity theft
Limit their screen time
If you have decided to monitor your children's online or phone activity, you should install a monitoring app on their Android device. After that, you can enjoy the numerous useful features these apps offer.
Top 5 best apps for parental monitoring on Android
---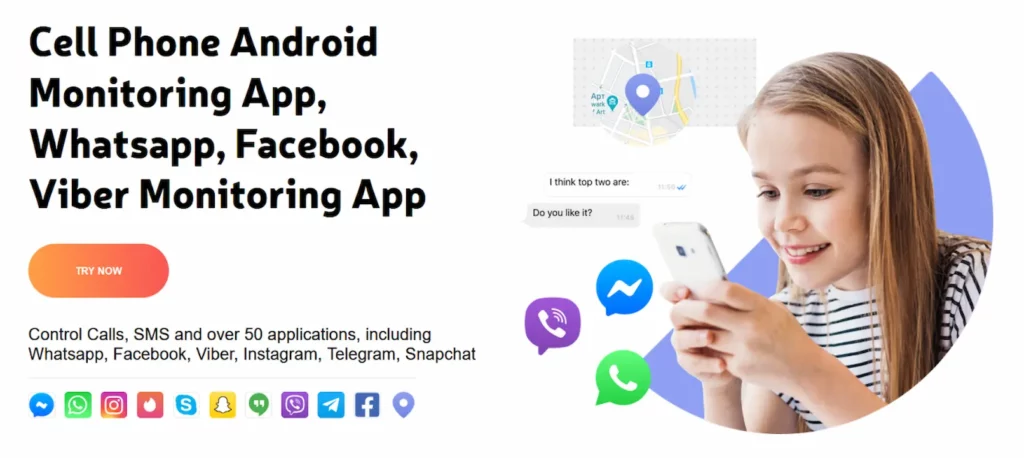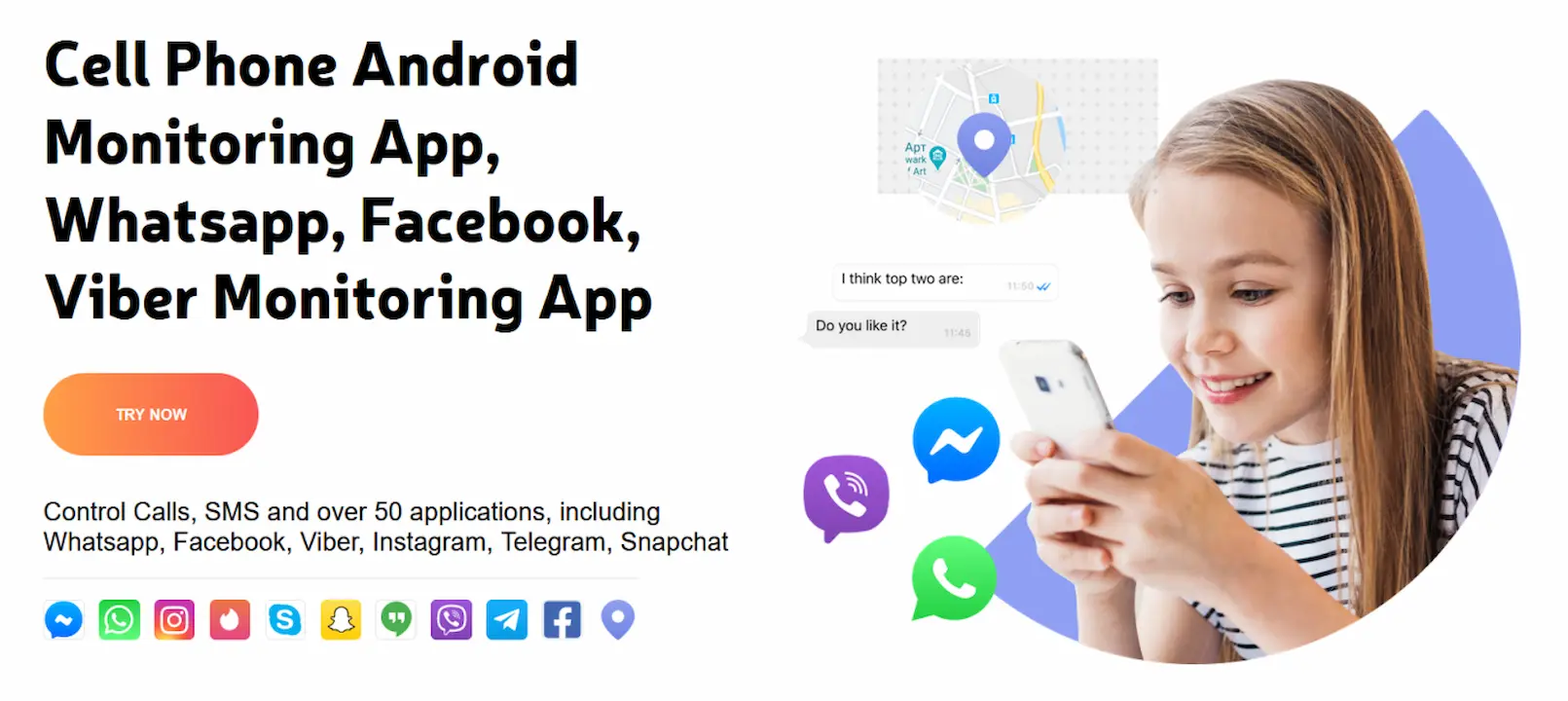 Evaspy is the best parental monitoring software, thanks to its easy interface, comprehensive controls, features, and affordability.
The app monitors the user activity and allows you to know what the user has been doing within a specific time frame.
The app lets you view keystrokes, monitor multimedia files, review used apps and visited websites, and listen to phone calls and chats on social apps, regardless of your or your kid's location.
It can also help you block unwanted websites and apps without physically accessing the device.
Once you install this app on your child's phone, you will be able to track their online activity using a secure online account. The app is very easy to use, and non-tech savvy parents can get the hang of its operations without a hitch.
You can also control your child's calls and read their messages over WhatsApp, Facebook, Viber, Instagram, Telegram, and Snapchat. The comprehensive monitoring tool is everything a concerned parent could ask for.
In addition to all these features, the EvaSpy app also allows parents to watch the gallery of their children's phones. 
Additionally, it enables them to block unwanted apps and websites to prevent the child from being exposed to harmful content on the internet.
The best part is that you can monitor it without letting your child know about it.
OurPact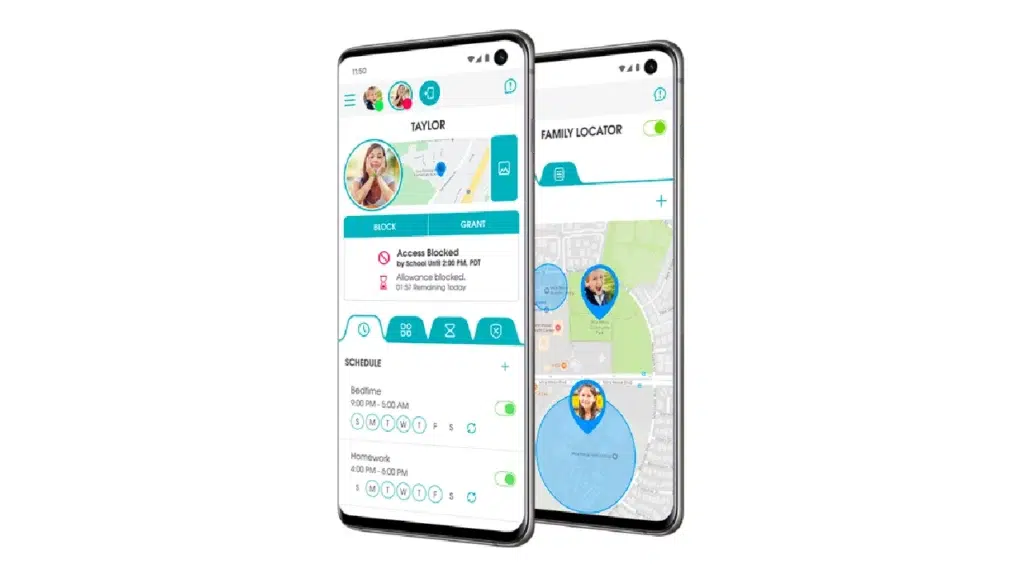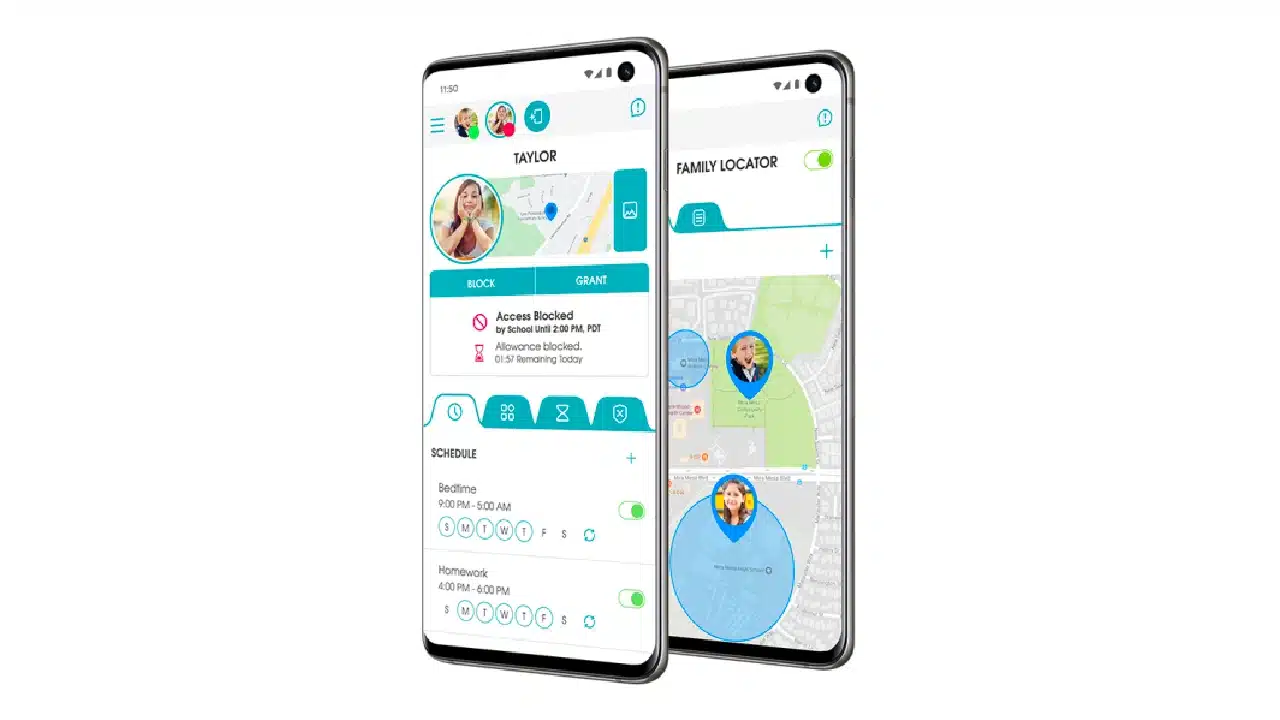 OurPact is a free-to-use monitoring tool excellent for modern parents.
The app has many helpful features to offer, including web monitoring, screen time setting, manual block, granting access to the internet and apps on the phone, and a family locator feature that will allow parents to keep track of their children's location.
Not many monitoring apps allow location tracking, which sets OurPact apart from other parental monitoring tools. 
Always be aware of your children's whereabouts and protect them from trouble. In addition to this, it also allows blocking texting and web filtering features.
With the former, you could control who your child texts and how long. You could control the online content your child gets exposed to with the latter.
Block any obscene or harmful websites and protect your child from online malice. With screen time control and SMS access schedules, you can ensure that your child doesn't waste all their time using the phone.
The best part is that the basic features of OurPact are absolutely free to use. You will have to pay a monthly fee to use premium features.
FamilyTime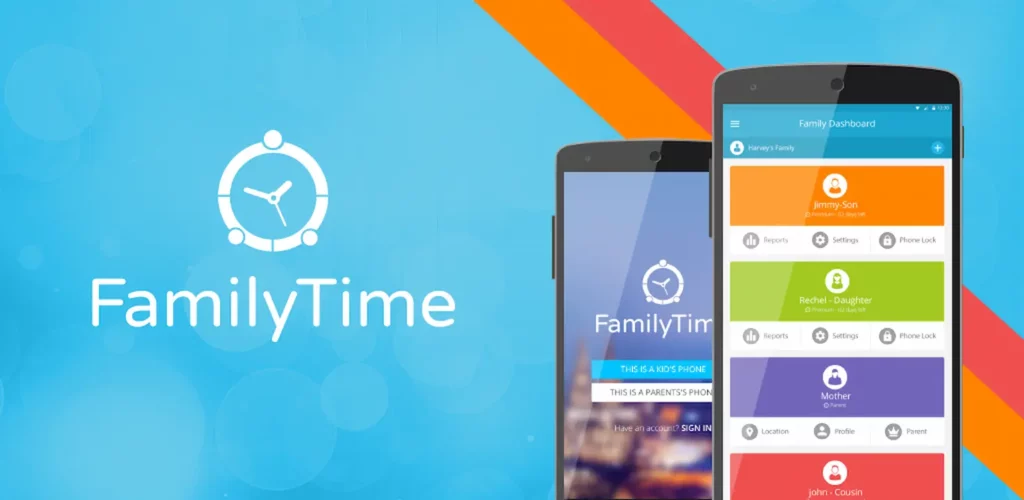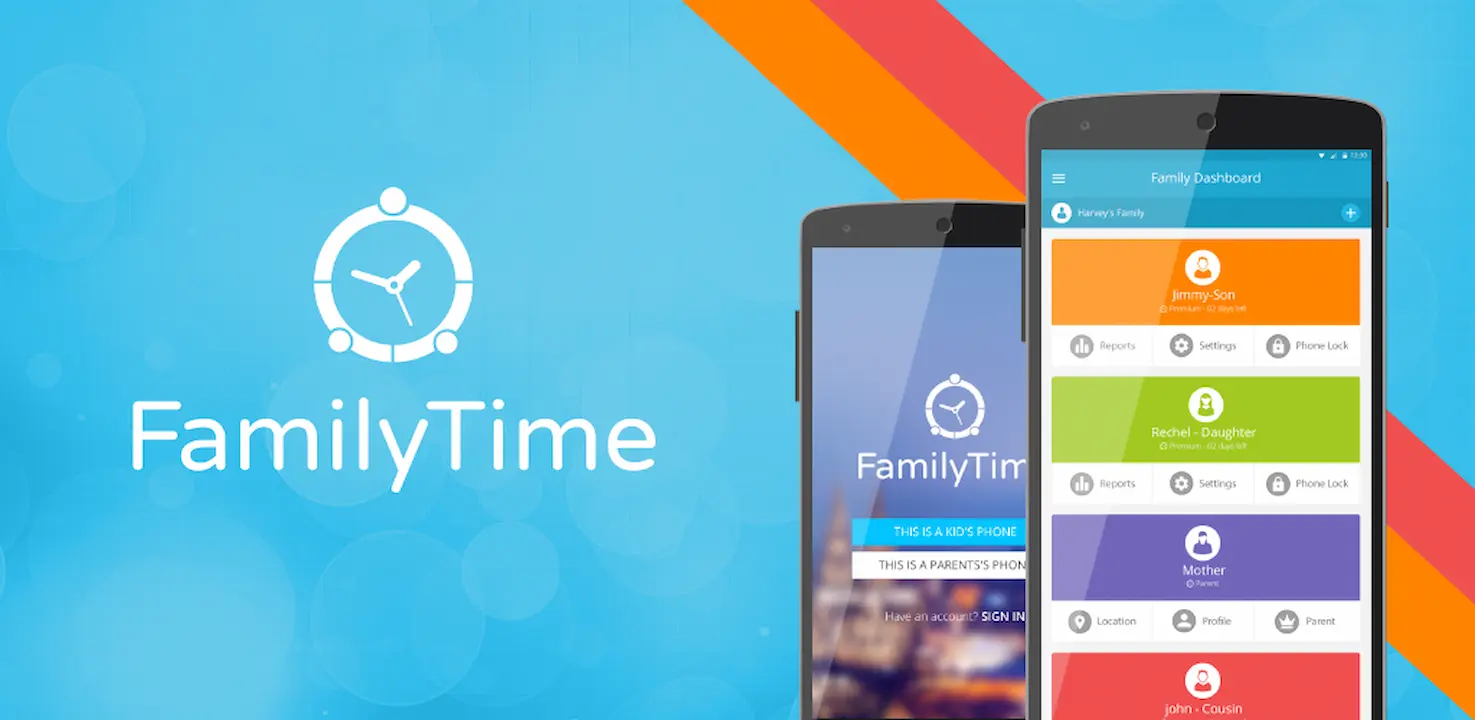 With numerous features for efficient monitoring and tracking of children's online activity, you'd find the comprehensive FamilyTime just to your liking.
The tool consists of all the features you'd need to keep your children's phone activity in check, including setting up screen time, bedtime, homework time, etc.
Moreover, you could also enable safe search and block pornographic content from your teen's phone. The web filter allows parents to tailor the internet for their children. 
If you don't want your child to access specific apps or websites, you can filter them out. FamilyTime also comes with geofencing and location tracking features.
With GeoFencing, you can mark certain locations, such as 'home' and 'school,' and get alerts when your child visits the fenced locations.
You can also track your child's movements with the location tracking feature.
This app offers virtually everything a parent can demand from a parental control app.
Bark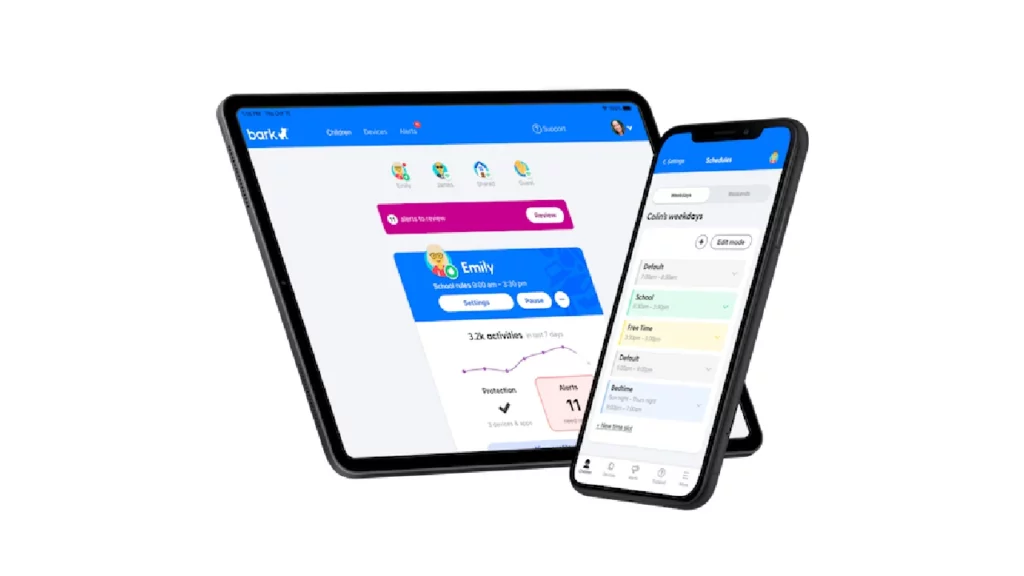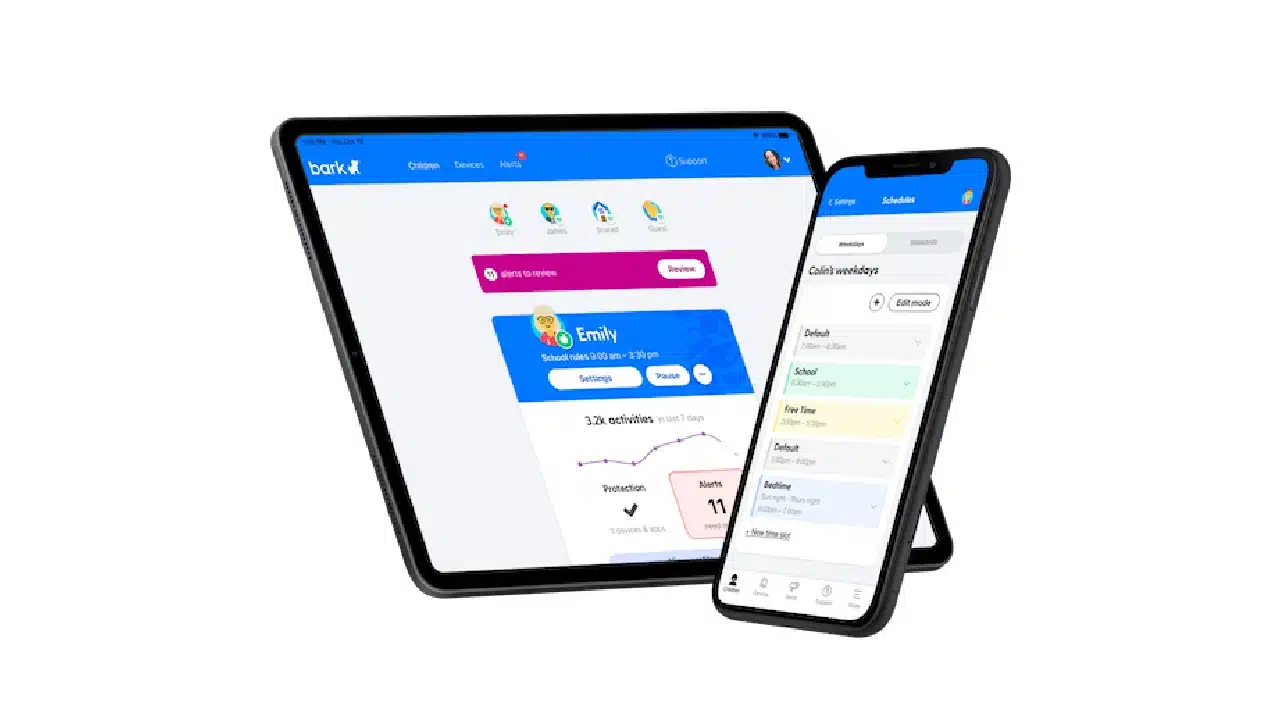 Bark is an online watchdog for your child's phone and online activity.
The app sports a comprehensive dashboard that allows you nearly full control over what your child sees and uses on their phones and for how long.
If you are concerned about your teen's social media behavior, or if you're worried they might get tangled up with the wrong people online, Bark is the perfect way to put all your concerns to rest. 
It monitors social media platforms, texts, emails, website visits, and the user's browser history.
You will receive timely warnings of any potential threats or issues with parental alerts. The 24/7 hour detection of the app would ensure that nothing escapes your notice.
Download the app, manage your child's screen time, and more.
Qustodio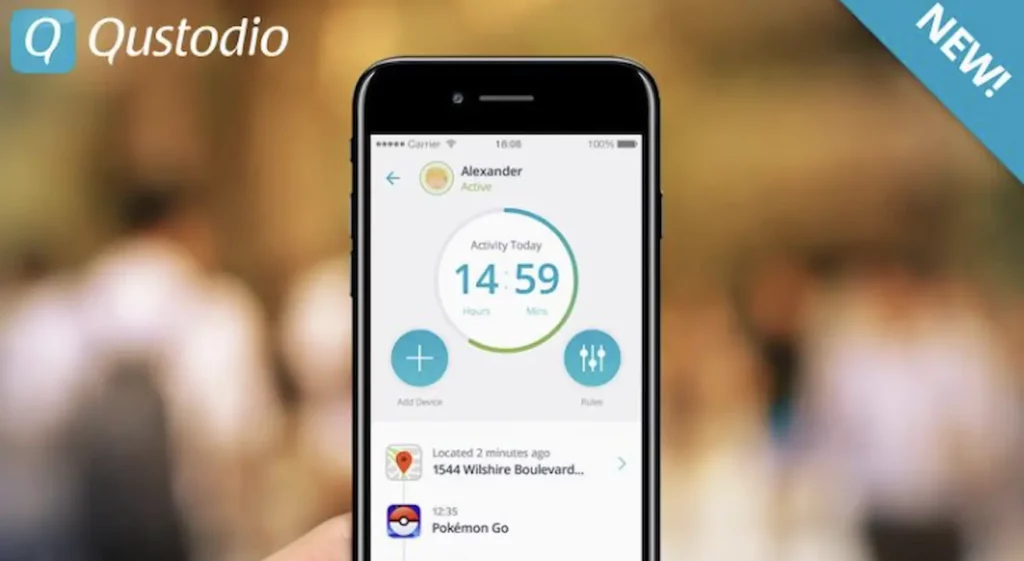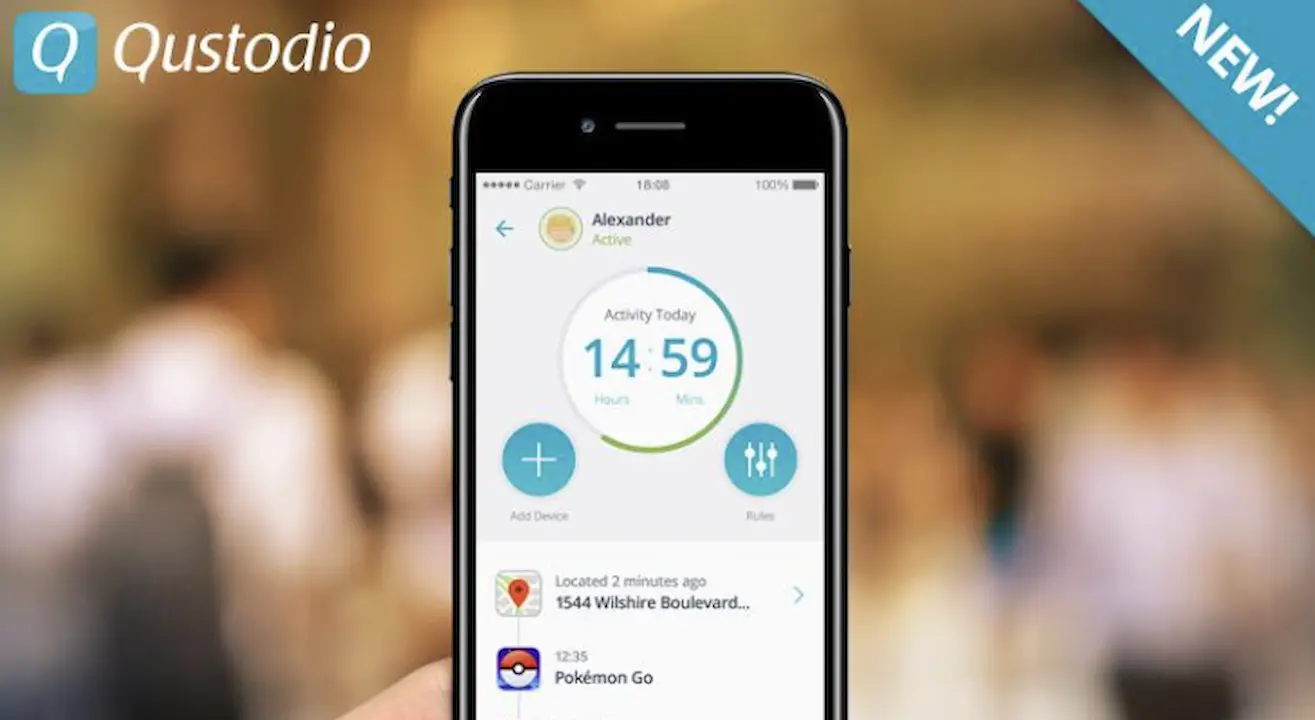 Qustodio is an all-in-one parental control and monitoring tool that caters to all the needs of concerned parents.
From a single dashboard, you could manage what your child sees on the internet and control their online behavior using various tools and features that the app comes with.
From filtering websites to setting time limits, and bocking apps, you can inculcate positive digital habits in your child and allow them to have a healthy relationship with phones and technology. 
Rather than forbidding them from using phones, you can tailor the online content to ensure that your child only consumes appropriate and healthy content.
You can also track calls and messages and locate your children using the app, so Qustodio does more than track your child's online activities.
Manage your child's contact list with this app as well. Qustodio might be a bit pricey compared to some of the other parental apps, but it is worth every penny.
Psychological issues of using parental apps
Parenting research has shown that tracking and monitoring children's online activities may not necessarily improve behavior.
Being extremely strict with screen time and internet usage can lead to authoritative parenting, which may not necessarily reap the results that parents using this strategy are hoping for.
But there are other and more healthy ways in which parents can use these apps to help their children instead of suffocating them.
Here are some tips to help parents use the monitoring app more effectively.
Install apps that are beneficial to your child.
Have a conversation with your children about their online activities and habits and inform them how they need to be changed. 
Have a conversation with your child about the dangers of social media and how they need to be careful on the internet.
Refrain from giving your children phones or tablets until the right age or until they are ready.
Comparison Table
| | | | | | | | | | |
| --- | --- | --- | --- | --- | --- | --- | --- | --- | --- |
| App Name | Dashboard For Parents | Call Logging | Text Logging | Call Blocking | Text Blocking | Location | Geofencing | Web Monitoring | Time Limits |
| EvaSpy | Yes | Yes | Yes | Yes | Yes | Yes | Yes | Yes | Yes |
| OurPact | Yes | No | Yes | No | Yes | Yes | Yes | Yes | Yes |
| FamilyTime | Yes | Yes | Yes | No | No | Yes | Yes | Yes | Yes |
| Bark | Yes | No | Yes | No | No | Yes | Yes | Yes | Yes |
| Qustodio | Yes | Yes | Yes | No | Yes | Yes | No | Yes | Yes |
Is it legal to use parental monitoring apps to track children's activities?
Since parents are legal guardians of children under 18, no law restricts them from monitoring their children's online behavior.
Parents can legally keep tabs on who their child speaks to online and check their browser history. Besides, parents can track the kids' location while they are out and monitor keystrokes on their computers and phones. 
As a concerned parent, you are entitled to keep an eye on your child and ensure that they are not falling into any online trap or getting influenced wrongly by phones or the internet.
Since such measures prevent the children from getting into trouble or getting manipulated by harmful elements online, parents can install a monitoring app on their children's devices. Although, ethical use of the software might be advised. 
Using parental monitoring app is nearly every parent's go-to method of tracking their child's online activities. As of now, there are no laws that forbid parents from watching their children's behavior on the internet.
Since the parents have legal guardianship over their children and are responsible for anything their child does online, they have the right to make sure that their kids don't misuse the internet or get exposed to malicious content.
What are some factors to consider before choosing a parental monitoring app?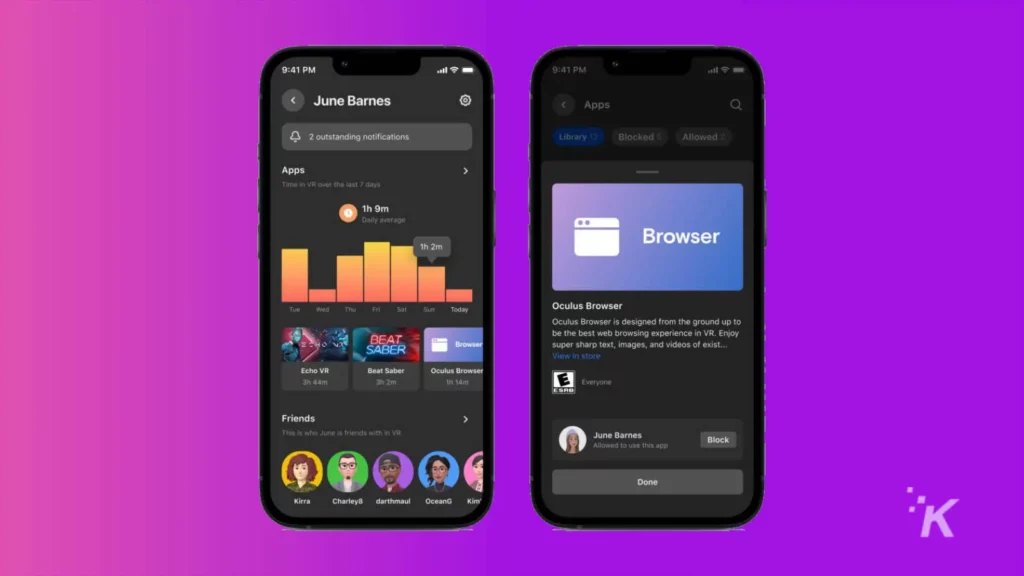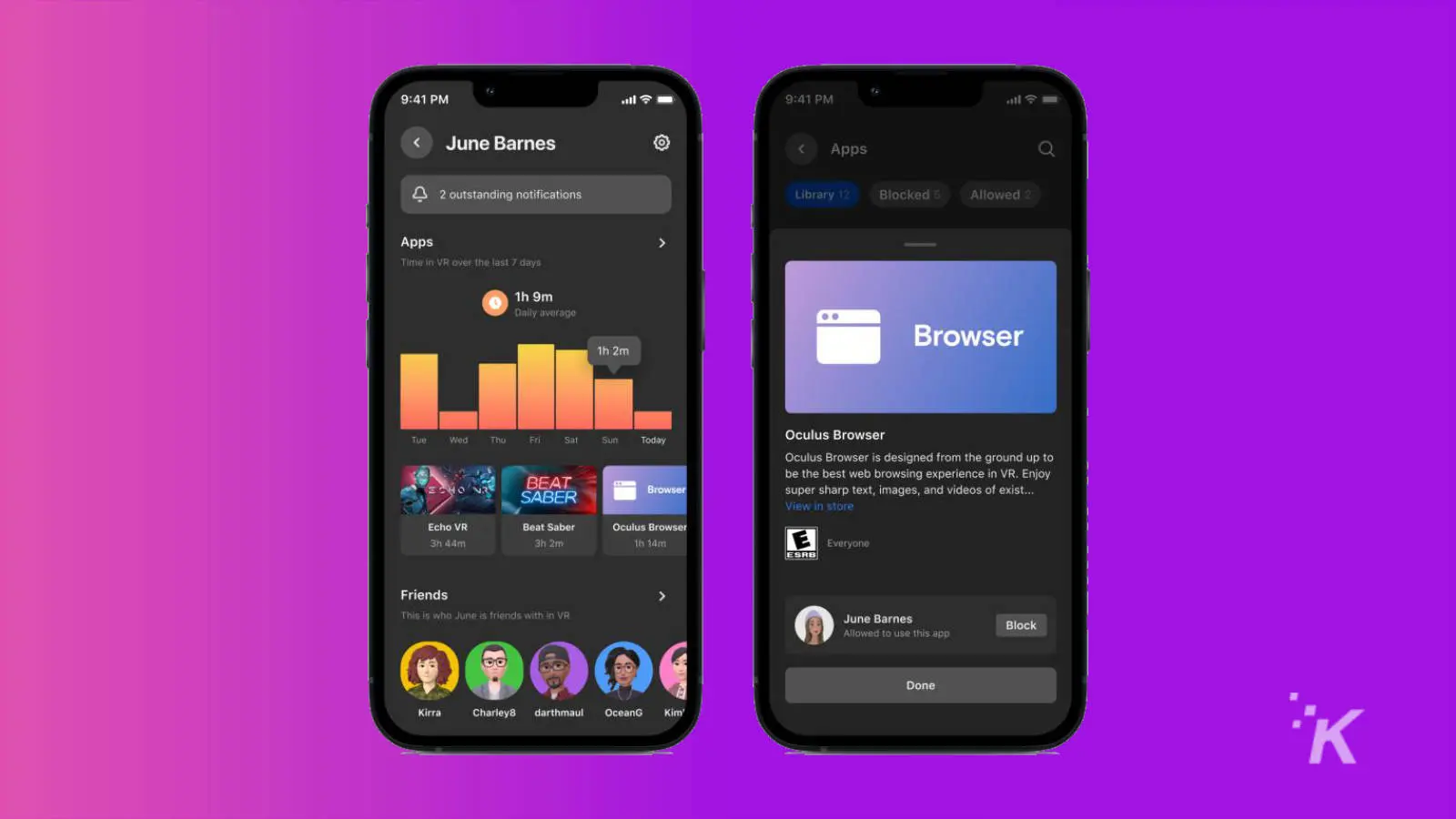 Most parental monitoring apps nowadays are paid. So you will have to do your research before you invest money in the app.
Here are certain things to consider before you purchase a monitoring app. 
Price: Such apps usually charge on a monthly and yearly basis. Before you invest in any app, research the prices of all the top parental monitoring apps and see which fits your budget. 
Features: Certain apps offer more features than others, but the prices of such apps are high as well. List all the features that you want the app to have, and choose the suitable monitoring tool accordingly. 
Hidden mode: Most parents prefer to spy on their children's online activity without them knowing about it. For this reason, certain apps come with hidden mode features. If you want to stealthily keep an eye on your child's activities online, make sure that the app you choose has a hidden mode. 
What are some must-have features in a parental control app?
Parental control apps these days offer a wide range of features that can make monitoring more comprehensive and easier for parents.
Here are 3 features that the app you're considering buying MUST HAVE.
Time limits: Screen time limit is a helpful feature of parental control apps that would allow you to fix how long your child can use their phones. Once the time limit is reached, the app would automatically block the phone or the internet. 
App and website blocking: Some certain apps or websites can prove harmful to a child's mind. Naturally, no parent would want their children to use such apps or websites. This is why a parental control app needs to have an app or website blocking feature. This would prevent your child from accessing the content you don't want them to see. 
Call blocking: It's an added benefit if the app also blocks calls, messages, and certain contacts.
Secure, streamlined account: If you have more than one child with a phone, you wouldn't want to create several accounts, as managing multiple accounts can be difficult. Certain apps can allow you to add and manage multiple devices. With a streamlined account, you can manage the phones of all your children. Make sure you check the device limit on an app before buying. 
Have any thoughts on this? Let us know down below in the comments or carry the discussion over to our Twitter or Facebook.
Editors' Recommendations:

Today's young ones are tech-savvy at a quite younger age, but you may well not want your kids sitting down...