In the late 1980s, Jennifer Grey's career was skyrocketing, thanks to her performance as Frances "Baby" Houseman in Dirty Dancing. Raised in both L.A. and New York City by her parents, actors Joel Grey and Jo Wilder, Jennifer Grey had spent years working on her craft. She was the youngest graduate of the famed Neighborhood Playhouse School of the Theatre and had built up a solid résumé of performances in films such as Ferris Bueller's Day Off and Red Dawn. Meanwhile, her tumultuous off-screen relationship and breakup with Ferris Bueller co-star Matthew Broderick and a whirlwind nine-month engagement to Johnny Depp kept her in the tabloids. Then, it all came crashing down.
At the age of 29, Grey opted to have a minor procedure to "fine tune" her nose. When a second surgery was required to fix a slight issue resulting from the first rhinoplasty, it completely changed her appearance and set her life on an entirely different trajectory. As she writes in her new memoir, Out of the Corner, the doctor's "tinkering left me unrecognizable and stopped my career in its tracks just as it was pulling out of the station." Though she continued working, primarily in television, her look was so altered, it often left audiences wondering, "What ever happened to Jennifer Grey?"
Out of the Corner: A Memoir
Now, with Out of the Corner, the actress is opening up about her life. She shares it all: chaotic relationships, drug use, drinking, chronic health issues, a head-on car crash that took the lives of two women, the lack of chemistry with her Dirty Dancing co-star Patrick Swayze, a stint on Dancing With the Stars, a divorce from actor-director Clark Gregg after 19 years of marriage — and yes, the nose jobs. It is the story of a woman who worked her way to the top, only to be knocked down and forced to rebuild her life from scratch. She hopes it's a story that will inspire others.
"I really hope that when people read it, they get something of value," she tells Shondaland. "[I want] people to understand that they're not alone in feeling lost or like their life isn't what they thought it would be. It's messy and complicated and beautiful for everyone."
Grey spoke with Shondaland over the phone about her parents, her rebellious teenage years, and what she's proudest of in her career.
---
SANDRA EBEJER: Congratulations on the book! How does it feel to be sharing it with the world?
JENNIFER GREY: It's super-surreal and exciting. I've never written anything before, and I wrote every word myself. It was a Herculean effort on my part, and then all of a sudden, here is the birthing time. It's like I've been pregnant. It's been an intense pregnancy, and now it seems to be an intense birth, but it looks like the baby's going to be okay.
SE: What was your process in writing this book?
JG: About 25 years ago, I started writing to deal with my frustration about what had happened to my career and my life. I wanted so much to set the record straight. I started putting together some kind of story of what happened, just to have the world stop misunderstanding me. I was looking at it through more of a journalistic lens — vetting my facts, vetting my stories, seeing if I had been going along with a story just because I'd heard it from my childhood. It was really more an investigative internal journey of taking away any blame of anyone and any shame of myself. Getting the facts down and then piecing it together like a puzzle was extremely gratifying. I found it to be more interesting when I looked at it like it wasn't me. It was more a study of how a person would end up like I am, and with [as much] love and compassion as I could muster for myself and for everyone else involved.
SE: It was interesting to read about your relationship with your parents. You had some wonderful times, but there were also some really difficult, personal moments that you write about.
JG: I don't know anyone who has parents that are more loving and caring and devoted than mine. It's very hard to even put into words how close I am with them and how much they care about my well-being. [But] the way they cared for me was informed by their childhoods. It's like a Russian doll: Each generation [does] better than their parents. Hopefully, I'll do better than my parents. Everyone is striving with everything in them to be the best parents they can ever be, [but] it is a job that you cannot do perfectly. Everyone's doing the best they can with the damage they come from, with their own experience and their own feelings about themselves. I don't believe that anything my parents ever did was meant to be anything but loving and supportive of me, period. We're just human beings doing our best, and the only reason that it comes off as being imperfect is because we're all imperfect. None of it was ever meant to be anything except truthful.
This content is imported from Instagram. You may be able to find the same content in another format, or you may be able to find more information, at their web site.
SE: You write in the book that growing up, you were always known as a famous actor's daughter, like it was a title that you carried around. Did that make it harder for you to establish your own identity? Do you think it played into the ways that you rebelled when you were a young woman?
JG: I never felt that being Joel Grey's daughter was anything but an asset. He's such an incredible artist and incredible human being. I felt like I was the luckiest person in the world. I was privy to being around incredible artists and artistry and virtuosity. I was taken to the ballet and brought to the theater, and I thought of it all as a good thing.
The rebelliousness I experienced when I was a teenager was a necessary individuation, which is the natural course, especially if you're extremely close with your parents. It is the natural course of events to becoming your own person to break the bonds of whatever is expected of you. [Also], there was a hunger [to be] a more realized person, even if I put myself in harm's way. It was the pendulum swing because I was so good [as a child]. That's where it was going to have to go to create some kind of balance.
SE: The book begins with the story about your nose job, which halted your career just as it was taking off. When you look back at it now, do you think it was ultimately a good thing?
JG: I think it is probably the best thing that ever happened to me. I don't think anyone willingly does the kind of excavation necessary to figure out who they really are until they're basically stripped of everything they thought they were. Other people agreeing with me or approving of me or thinking I'm the greatest — it just doesn't mean anything. If everyone loves you, you don't know who you are. So, to me, it was a gift. It was surreal, it was tough, but [now] I know that whatever happens, I will be okay. My inherent value is the same as when I was born, the same as before I got Dirty Dancing, when I did Dirty Dancing, when I did my nose, when they decided I wasn't me, when I became a mother, and [when] I wrote a book. My value is not up for grabs. You might make missteps, you might do stupid things, you might feel regret about choices, but your value is your value.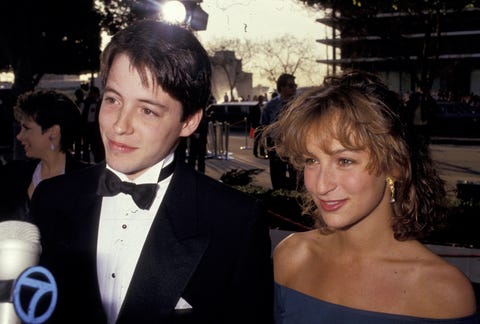 Matthew Broderick and Jennifer Grey during 59th Annual Academy Awards at Shrine Auditorium in Los Angeles.
Ron Galella, Ltd.
SE: You had a very turbulent relationship with Matthew Broderick, which was immediately followed by a romance with Johnny Depp. Both men are still in the public eye. Does that make it more difficult to heal and move on when you can't avoid hearing about someone from your past?
JG: Johnny Depp was 100 percent a rebound relationship. [That relationship] was my medicator. It was the way I soothed myself, [hoping he] would be able to wipe away all the pain that I couldn't tolerate from the previous relationship. I wouldn't wish it on my worst enemy to be medicating with another human being because you're not in your right mind. You don't want to go through the feeling, and it's just waiting for you, so it just gets stockpiled. But it was the best I could do at the time. I thought it was great, and looking back on it, it was insane. It's just part of being young and untethered, not knowing who I was and not having the skills to self-soothe. [After Depp is] where my life got better; those were the gifts of those men.
If everybody could have been anonymous, I would have preferred to write this book that way. It was much more important to write about what it felt like to me because it was so impactful and it was so messy. I was so lost and had no other skills to care for myself and survive. So, if I could have avoided [naming them], I would have, but I couldn't. Now, it's just ancient history. The healing has happened. We're talking about 30 years ago, and people who are in the news now — I don't know those guys. I have no opinion about their lives now because I don't know them. This is just ancient history of young people being young and doing what young people do.
SE: Based on what you wrote about the low-budget, scrappy production values of Dirty Dancing, it's not a film that should have worked. But it's had an indelible impression on pop culture. How do you feel about the movie now?
JG: I feel that the movie is about so much more than what it appears to be about. It's an emotional movie about [how] there's more to all of us than what [one sees] at first glance. For a lot of people, it's very common to feel that they're limited by certain ideas about their worth or identity, and there's more to all of us. There are some people that are able to see more of you, and what it makes you realize is that you can see it in yourself.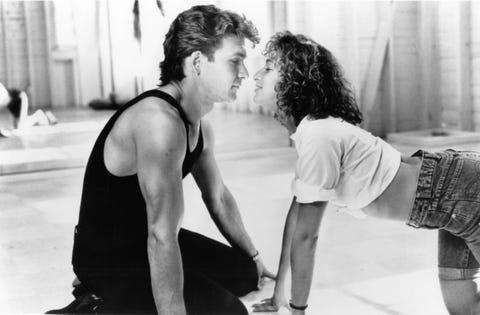 Patrick Swayze and Jennifer Grey are pictured in a scene from the film Dirty Dancing in 1987.
Vestron/Getty Images
I think people don't feel seen for the most part. They feel judged. They feel like they're in a corner. I think the corner is up to all of us. The limited ideas are actually lies about ourselves, and once we see it and expose it and realize, "I'm participating in being in a corner," you can say, "I can stop that. I can take myself out of the corner. Nobody's putting me there. I've just agreed to it."
SE: Most people remember you as Baby from Dirty Dancing. But when you look back on your life, what are you most proud of?
JG: I'm most proud of my resiliency. I'm most proud of the ways in which I saw how I abandoned myself and I stopped. I learned from the things that have been the hardest for me. [I'm proud of] my ability to bounce back and love myself and be a flawed, messy, complicated person. And to champion myself regardless of what other people have said, to take to heart who I know I am instead of looking outside for permission to be what I want to be. I feel happier than I've ever felt, more myself than I've ever felt, and I feel like my life has just gotten better and better. It's not due to anything on the outside; it's all on the inside. It's connection with other human beings, helping other people, being of service, whether it's through a book or a conversation. And being a mother — doing it as well as I can, knowing I'll never be perfect, and always striving to learn. That's the life that I feel really good about.
---
Sandra Ebejer is a New York-based writer who has contributed to The Boston Globe, The Washington Post, Greatist, Flood Magazine, and The Girlfriend from AARP. Find her on Twitter @sebejer.
Get Shondaland directly in your inbox: SUBSCRIBE TODAY
This content is created and maintained by a third party, and imported onto this page to help users provide their email addresses. You may be able to find more information about this and similar content at piano.io
We identify that transitioning to lifestyle as a higher education university student – and the higher education several years in...