CALVERT COUNTY — Huddled in a corner of his dimly lit bedroom, Guy Stephens peers at a glowing computer screen.
He scrolls through the document before him. It's more than 100 pages long, and it took him months to compile. Three years ago, he sat in the parking lot of Calvert County Public Schools' central office building, clutching a hard copy of this report and trying to quiet his hammering heartbeat.
Armed with meticulous research on seclusion and restraint, and ready — despite his anxiety — to present it to staffers he believed had traumatized his son, Stephens walked inside.
That was in 2019, when CCPS had just convened a committee to examine seclusion and restraint in its schools. Spurred to action by his autistic son's experiences with these practices, Stephens had brought forward a startling data point: Calvert County tallied more restraint incidents per student during the 2017-18 school year than any other district in the state.
Besides Frederick County.
In the years since that first committee meeting, Calvert County has drastically reduced its use of restraint and all but eliminated seclusion. It's an achievement that district officials attribute, in large measure, to Stephens' advocacy.
But the change also took a lot of work on educators' parts, the officials said. It required them to shift their thinking around discipline and crisis prevention, take a close look at their training practices and listen closely to community members' concerns.
Now, Stephens is in the process of leaving his day job so he can focus full-time on what has become the nonprofit Alliance Against Seclusion and Restraint. The work has consumed his life, connecting him with educators, parents and experts around the world. He has a podcast. Last week, he testified at a hearing on Capitol Hill.
And shortly before that, he met with the leaders of Frederick County Public Schools.
"I said, 'Look, I understand this position you're in right now,'" Stephens recalls of his conversation with Mike Markoe, FCPS' interim superintendent. "I'm sure you wish you weren't in this position, but you are.
"So the question is, what can you do?"
In December, the U.S. Department of Justice announced it had investigated and settled with FCPS over the district's misuse of seclusion and restraint against students with disabilities.
Looking at raw statewide numbers, FCPS recorded by far the most incidents of both practices during the 2017-18 school year — outpacing much larger school systems. Calvert County, meanwhile, had the third most seclusions and the fifth most restraints.
But Stephens found that if you take each district's size into account, dividing its incidents by its total enrollment, Calvert County schools showed the most pervasive use of seclusion. In restraint rates, Frederick remained number one, and Calvert jumped to number two.
"We were certainly concerned about that," recalled Christine Harris, CCPS' special education director.
Located in southern Maryland along the western shore of the Chesapeake Bay, Calvert County has a population roughly a third the size of Frederick County's. It's a broadly wealthy and largely rural part of the state, home to roughly 25 public schools.
Like FCPS and districts across the country, CCPS predominately secluded and restrained students with disabilities. Also like FCPS, CCPS maintains it was looking at alternatives to both practices back in 2018, before any problems were brought to light. And officials from both districts have questioned the veracity of statewide data, speculating that other counties may be underreporting or that they themselves were over-reporting by counting incidents that didn't meet the legal thresholds.
Still, Harris acknowledged that CCPS had a problem. In hindsight, it stemmed from a few different places, she and other officials said. For one, educators across the system were not on the same page with key definitions.
In Maryland, seclusion and restraint are legal when they're deemed necessary to protect against "imminent, serious physical harm" and when less intrusive interventions have failed. But lacking clear guidance and policies, educators in Calvert County were left to interpret these meanings for themselves: What, exactly, constitutes "serious physical harm"? What does "imminent" mean, and at what point can you determine that your other interventions have failed?
"Those nuances changed from school to school, and from classroom to classroom, depending on who was handling the crisis at the time," said Susan Johnson, CCPS' assistant superintendent.
For months, the district focused on nailing down the specifics.
"It sounds very trite," Johnson said, "but it was such a big part of our work."
Just as important, though, was a philosophical shift in the theories that underpinned the district's approach to challenging student behaviors. CCPS contracted with Ross Greene, a clinical child psychologist who taught at Harvard Medical School for more than 20 years and has written four books on behavioral concerns in kids.
Greene now runs the Portland, Maine-based nonprofit called Lives in the Balance that teaches crisis prevention — something CCPS officials acknowledge wasn't prevalent in their training programs before.
"It was not the priority," Johnson said. "The priority was crisis intervention."
Across the nation, Greene told the News-Post, educators and caregivers' training regularly focuses on what to do when a student's behavior has gotten out of control. But by then, Greene said, "we've already missed the boat."
This common approach — which can include an emphasis on seclusion and restraint — is often packaged as crisis prevention. But to Greene, and to other childcare experts and advocates, any situation that requires restraint is, by definition, a crisis.
"Not only have we been training [educators] wrong," Greene said, "we've been characterizing what we've been training them in incorrectly."
In Calvert County, officials decided to "pare down" the amount of educators who were even trained on restraint tactics in the first place. They found that teachers who had spent hours learning and re-learning these methods were likely to jump the gun in applying them.
Instead, the district started focusing on training that emphasized proactive approaches. It was about a change in culture, said Diane Workman, CCPS' former assistant superintendent and chair of the district's seclusion and restraint workgroup.
It's a cliché in child development circles that behavior is communication. Especially in students with disabilities, outbursts occur in response to an unmet need or an unsolved problem, Greene said. Addressing the root causes of their behavior might not be simple, he acknowledged, but it's more humane — and far more effective — than secluding or restraining them.
"Kids do well if they can," Stephens said. It's a mantra of his.
"That sounds like a really simple thing to say, but very often in our schools, the ideology is: 'Kids do well if they want to.' And if you think that all kids' behavior is a matter of motivation, then you react with reward and consequence," he continued. "If you think about it differently, you begin to see the problem differently."
Before CCPS started digging into seclusion and restraint, Harris employed one behavior specialist. Now, she has five. The district's number of behavioral technicians has jumped from two to four.
Hiring has been an important part of the district's response, Harris said. Aside from the obvious benefits of a more robust staff, it's allowed specialists to develop a more personal relationship with individual children in the county's behavior development programs.
It's far less common now for a struggling child to be treated by an adult who doesn't know them or their tendencies, said Jodi Perez, a behavior specialist who has been with CCPS for more than a decade.
The district has also revamped their system for tracking incidents. Before, central office staff relied on paper forms, which would be filled out by the teacher involved, approved by a principal and then passed on to Harris' team. Now, they use an electronic system that alerts central office staff of a restraint in real time.
FCPS is pursuing a similar plan.
Seclusion, meanwhile, has been almost eradicated in CCPS, though not outright banned. Staff can only seclude a child if a parent has specifically written the tactic into their Individualized Education Plan. That's the case for just nine public school students in the whole county, Harris said, and only one of them has been secluded so far this school year.
The seclusion policy came down from the Calvert County Board of Education, which took an active role in addressing the issue, said member Dawn Balinski. Like Frederick County school board members, Balinski said she was surprised and upset by her district's seclusion and restraint data.
"We became very prescriptive, which is normally not what a board does," Balinski said. "We said, 'This is how you'll do it.'"
In addition to offering training on Greene's model, called Collaborative Proactive Solutions (CPS), the school system has implemented Ukeru, another behavior management program. Like CPS, Ukeru emphasizes that a proactive approach is ideal. But in a crisis, school staff use foam pads to block an aggressive student from hurting themselves or others.
After meeting with Stephens — who introduced CCPS to Ukeru — FCPS decided to send seven of its own staffers to be trained in the approach. Those people will then be able to train other educators on Ukeru.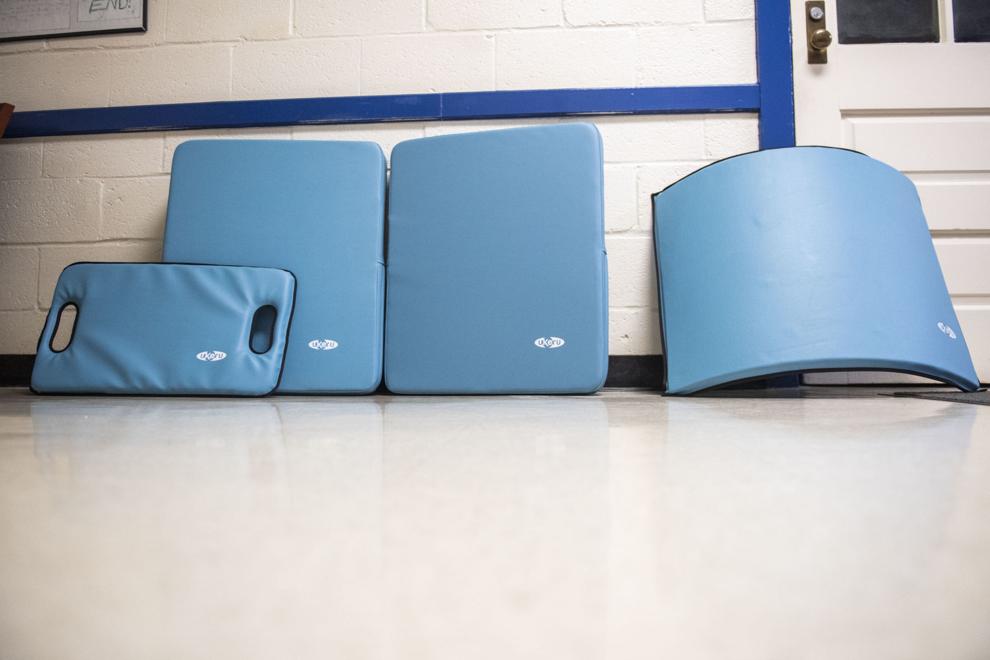 "FCPS will determine expanded use of this program after participating in training and evaluating the appropriateness of this program for specific student groups and programs," special education director Linda Chambers wrote in an email statement.
Re-focusing staff training around these two models has changed the way staff approach their most challenging students, CCPS' Perez said.
"I think we were probably overusing [seclusion and restraint] because we didn't have a replacement," she said. "We were using — at the time — the best tools that we had to manage those students."
Perez said she didn't feel burdened by the extra trainings and stricter requirements. But despite all the progress the district has made, the whole process was sometimes a tense and stressful one.
It was difficult, Perez said, when seclusion and restraint were being widely discussed in media reports and at board meetings back in 2019. Balinski described it as being "just raked over the coals."
Some of the community's anger toward school staffers, Perez felt, was misplaced.
"It was frustrating," she said. "I think that people who don't work in the school system, who don't have a full picture of all the challenges that we're faced with every day, maybe had a one-sided view of this information."
Sometimes, Stephens recalled, the seclusion and restraint committee meetings were tense. Parents disagreed with each other and with staffers. But community involvement was also a key part of the change, Calvert officials said. Inviting parents to join the conversation showed that the district valued their feedback, Harris and Workman said.
In all, Balinski said, the system benefited from the public nature of it all.
And for that, she says, she largely has Stephens to thank.
"It could have gotten lost in the noise if we didn't pay real strict attention to it. But Guy just wouldn't let it go," Balinski said. "He was the one who impacted me the most."
Cooper Stephens, 16, steps out onto his front porch. It's a near-freezing February evening, and a sharp, spitting rain is falling, but Cooper is wearing shorts. And he's grinning proudly.
The yard is his domain. Thousands of logs, which Cooper split, lay stacked in neat wooden racks, which Cooper built. Hundreds of buoys that he's collected from the Chesapeake — just a short walk from his home — are strung across the back fence. The Stephens eventually bought the parcels of land surrounding their little house to make room for their son's myriad creations: benches and tables and a treehouse and crisscrossing footpaths lined with bricks.
"This is a special place for him," Guy says.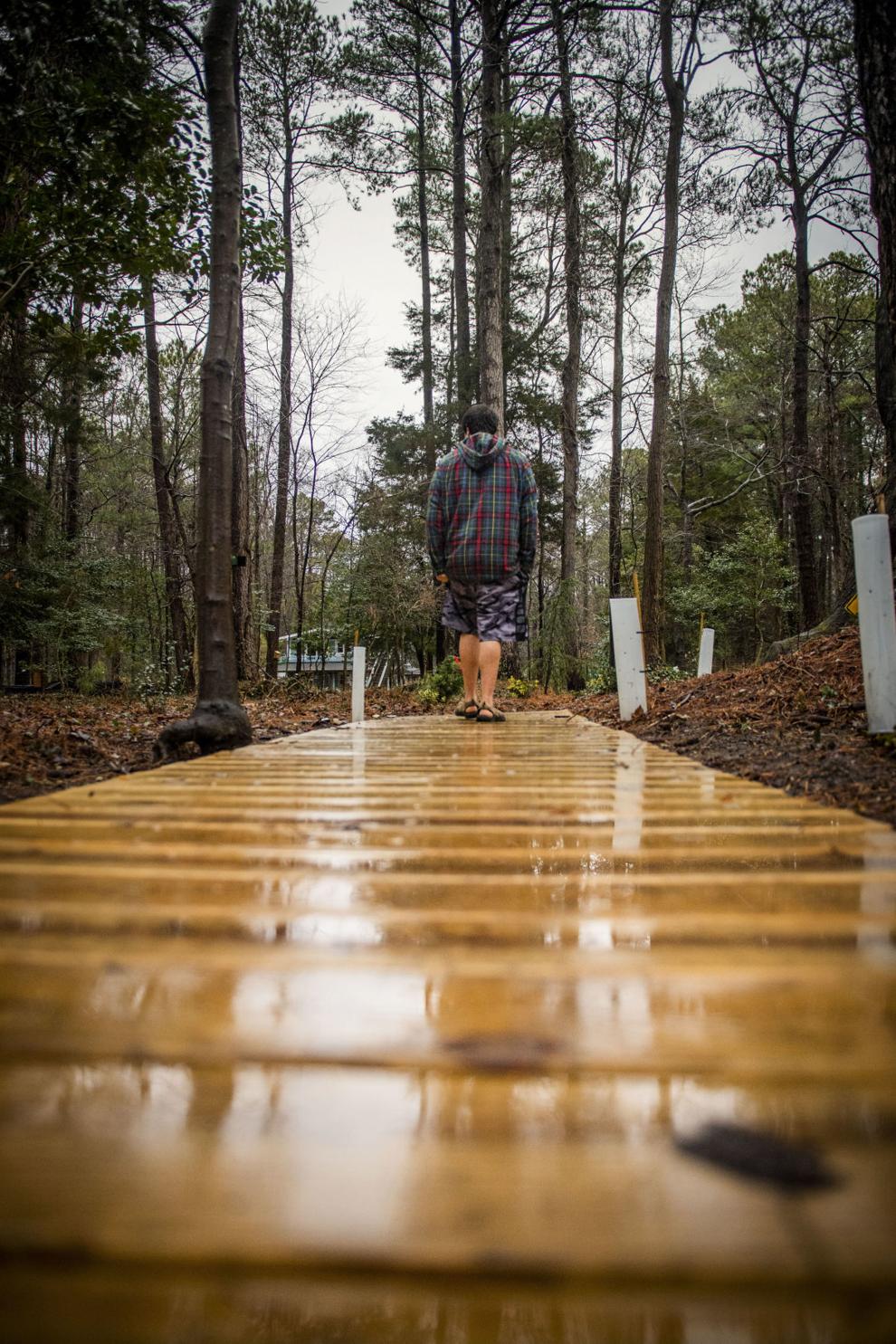 It's been a healing place, too.
Cooper was six years old the first time he was restrained and secluded at school. It happened because he didn't want to come inside from recess, Guy said.
It didn't happen again until fifth grade, when — after a few years without many behavioral challenges — Cooper's favorite teacher was in a traumatic car accident. She stopped coming to school, and without her guidance and comfort, Cooper started acting out.
He left class and hid in the bathroom. His teachers found him, "dragged him down the hallway," and put him in an empty classroom, Guy said. After a second similar incident, Cooper was afraid to go back to school.
So his parents homeschooled him. That went on for two years. And then, in 2018, they thought he was ready to go back to CCPS.
In the first two weeks or so of eighth grade, though, Guy says Cooper was restrained and secluded "at least four times." He's only seen two official reports.
"This shouldn't have happened. It's not OK," Guy remembers telling Cooper. "And I'm going to do whatever I can to make sure that it doesn't happen again."
Flash forward about three years, and the Alliance Against Seclusion and Restraint has a P.O. box. It has a phone number: 866-NoSclsn. Guy works from a home office stacked with books on behavioral science, taking calls with families from Colorado to Australia. More than 16,000 people follow the organization's Facebook page.
"I didn't set out three and a half years ago to be an expert on all of this," Stephens said. "But I have devoted a lot of time and energy and research into this. And, you know, I think I would rival anybody's knowledge on this issue across the country."
Stephens is happy with how things have turned out in Calvert County. They're not perfect — and the process exhausted him at times — but he appreciates the changes he's seen in the district and the officials who worked to implement them.
With therapy, a new and supportive classroom environment and plenty of time outdoors, Cooper is able to be successful in school again. He's considering studying forestry in college, which is just around the corner for him.
And in a few weeks, Stephens will once again make the two-hour drive to Frederick. FCPS has invited him to speak in a community forum at The Arc of Frederick County.
Before all this, Stephens was an amateur nature photographer. Vibrant photos of the Chesapeake at sunset adorn the walls of his home.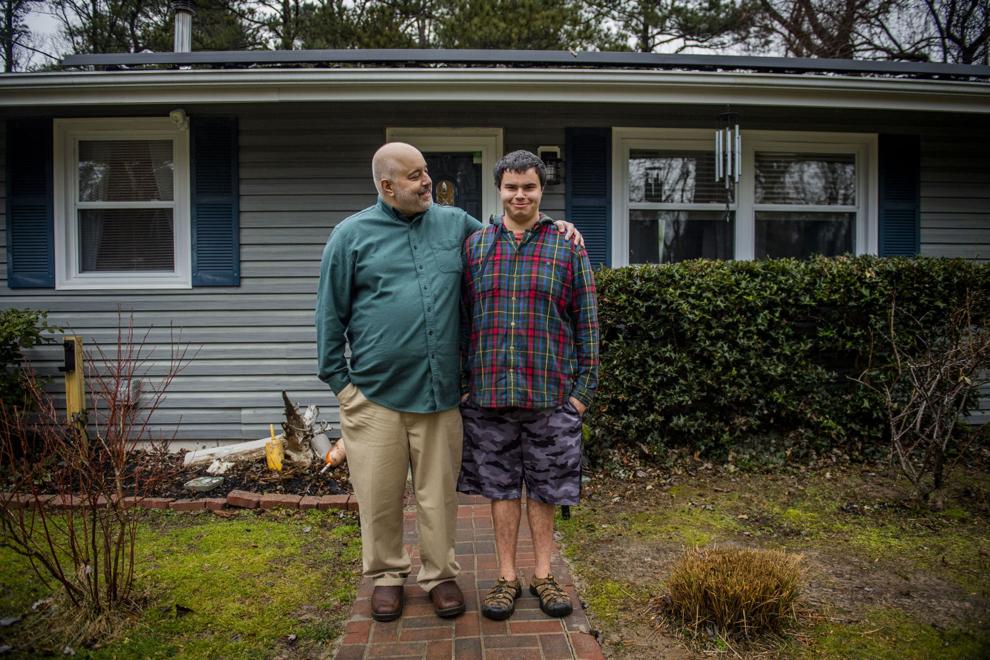 His heart isn't in his day job as a web development director anymore, and he doesn't have time to take pictures. For three years, he's been focused on the Alliance without deriving any income from it. He hopes upcoming shifts in the group's operations will make it financially sustainable.
And he hopes Frederick is about to embark on a path similar to his home district's.
"This is an opportunity," Stephens told the FCPS officials he met with last month. "It may not seem like it, but you have an opportunity to turn this around."
by KAREN COREKIN-DeLaMER, Training and Local community Relations Coordinator, Northern Door Children's Centre In my very last column, I had...